Recently Alexander Pick and the Lampuga team welcomed us in Rastatt, Germany, for a Lampuga production tour. We were able to have an interview with the Managing Director Sales & Marketing as well as a tour of the development and production center. In the video below you will get exclusive insights into the production of the Lampuga Air Jetboard.
Lampuga production tour
Let's start with the tour of the Lampuga headquarters in Rastatt. The Lampuga production hall was designed and built specifically for the manufacturing of Lampuga jetboards. It follows automotive standards for highest precision. But have a look for yourself:
This was not the first production facility for eSurfboards we were allowed to visit. But so far the most professional one we have seen. The Lampuga production follows the highest standards.
Interview
Let's move on to the interview with Alexander Pick, Managing Director Sales & Marketing of Lampuga GmbH. In 2019, we had already interviewed the owner Nicolai Weisenburger.
Alexander, how long have you been with Lampuga and how did you get involved?
In 2018, owner and CEO Nicolai Weisenburger had offered me the opportunity to join this still young but promising project as Managing Director Sales & Marketing. At that time, I had already worked for 20 years for a large German brand company in the b2b market, 5 years of which I was responsible for the US market in New York and most recently for many years for global sales. I think that after 20 years it was time for a new challenge, especially since, in addition to the innovative technology and exciting industry, the entrepreneurial and visionary spirit of Nicolai particularly excited me. As I myself have always enjoyed doing a lot of different sports, the product of course immediately excited me. I then started at Lampuga in January 2019. my office is just next to the Lampuga production hall.

Alexander Pick

What are your responsibilities?
At Lampuga, I am responsible for the areas of Sales & Marketing. Even though we have professional framework conditions and support thanks to our affiliation with the Weisenburger Group in Rastatt and Karlsruhe, Lampuga is still in the start-up phase. Here, the most important task was and is to develop international sales via a competent and reliable dealer network and to build trust for the brand in the process, especially since the European brand launch ultimately did not go according to plan due to delays. Lampuga does not sell its products directly, but exclusively through local and regional sales partners: 'think global but act local' also serves to maximize customer satisfaction. The qualification of our dealers is a particular concern of mine and we invest heavily in their support, but also in the quality and safety of our products in the Lampuga production. At the same time, internal processes must also function as smoothly as possible, including after-sales. After the start in Europe, we are currently developing winter destinations outside Europe.
What do you enjoy most about your job?
Working with other people and cultures means a lot to me, and ideally a friendly and trusting relationship develops over time in addition to the business cooperation. Then even problematic situations, which can always occur, can be solved professionally and satisfactorily. Trade fairs such as the boot in Düsseldorf or the Cannes Yachting Festival are of course highlights in this respect. I very much hope that the industry will finally return to the regular trade fair calendar in 2022. If I can also demonstrate the Lampuga Jetboard myself now and then, that's particularly fun for me. I fully identify with the holistic and sustainable approach at Lampuga: no 'hit-and-run' mentality, but rather building and maintaining a long-term customer and dealer relationship are in the foreground and will certainly also promote sustainable corporate success in the Lampuga production.

Alexander Pick

You've been delivering to customers since 2020. In which regions do you see the most demand?
Fortunately, our success so far is spread over various markets and there is no one market that stands out. Of course, we experience great interest from German customers, who, however, do not always inquire for use in Germany, but would like to equip their vacation home by the sea or the yacht in a Mediterranean port. Basically, there is great interest around the Mediterranean: Southern France, Italy and Spain with the Balearic Islands, as well as the entire Adriatic coast from Slovenia to Albania. However, thanks to our local partner, we are also successful, for example, on Lake Balaton in Hungary or in Poland and have recently started sales in the Middle East and Asia. In addition, we receive many inquiries from America, although we are currently preparing sales there but have not yet started.
Do you see more potential in rental or sales?
We see great potential for Lampuga in both areas. With the Lampuga AIR, we are addressing a large target group: the board is very simple and can be mastered in a very short time with virtually no prior knowledge, and thanks to its construction it is also rather harmless and without any significant risk of injury. At the same time, it can also be ridden very sportily at a maximum speed of approx. 50 km/h. We have also placed great emphasis on product safety, while the modular design offers advantages for transport and storage. So this is the ideal watertoy for the whole family and for use on a boat. In addition, the battery can be changed in one easy step, multiplying the regular range of about 45 minutes. With a charging time of about 120 minutes, these are all great advantages for the use of our board in the rental business.
Will there be any news from Lampuga in 2022?
For 2022, we have been focusing on making our product even safer, more customer-friendly and easier to use over the past few months. At our German headquarters and Lampuga production site in Rastatt, we have implemented many suggestions for improvement in close dialog with our customers and sales partners. In addition to product improvements, we have learned that detailed instruction and training is important for new customers to prevent errors and damage. Especially in salt water, incorrect handling can quickly lead to corrosion. In now 6 short how-to-videos the user can find all important hints and tips in a very compact way. For ideal handling out of the water, a practical travel bag for battery and board has been available since the beginning of the year.
In addition, our development engineers are working hard on a number of new features and innovations, which we in sales are of course very excited about, but do not want to announce at this point.

Alexander Pick

What do you think of eFoils?
Currently, the demand for eFoils seems to be high and the topic of foiling seems to be trendy, especially since foiling technology is now used in many water sports such as windsurfing, kitesurfing, wakeboarding and sailing. In addition to the initially spectacular look of "gliding over the water", the efficiency thanks to the low water displacement is certainly an advantage. Personally, however, I also recognize a higher risk of injury with eFoils, because the mast and wing are usually sharp and can be dangerous if you fall above the water surface. Especially for inexperienced people it is also more difficult to learn… Both reasons probably speak for some against the use in the rental or for the whole family. And if I want to feel the contact with the element water, a jetboard gives a different and more direct riding feeling.
I think that, similar to winter sports (snowboard or alpine ski), there are users who will be enthusiastic about one or the other version due to the advantages and disadvantages mentioned.

Alexander Pick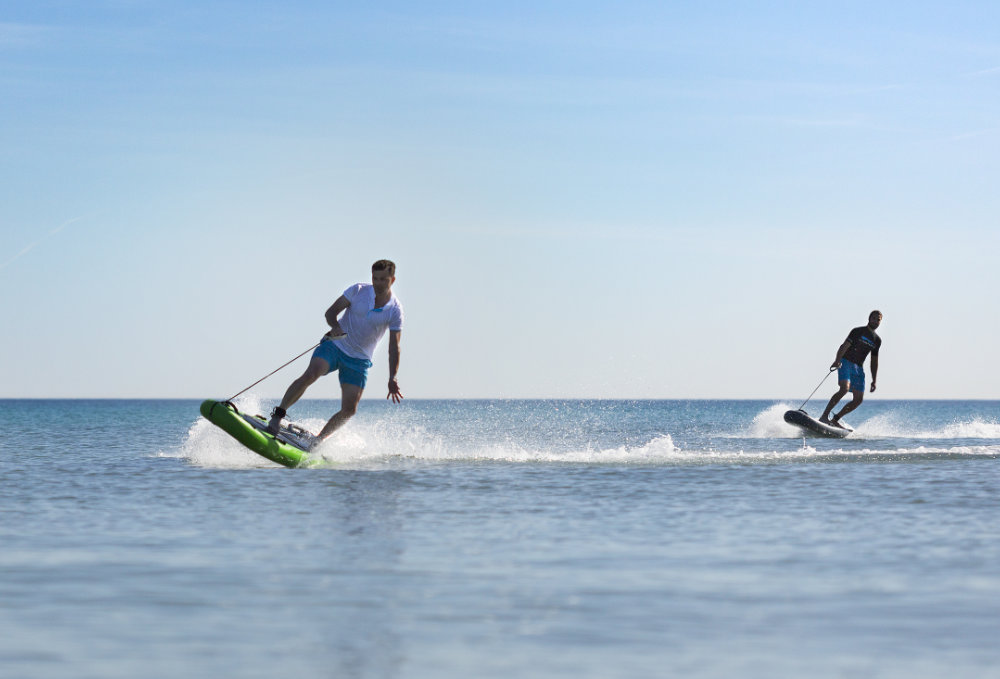 Will there be a new edition of the Lampuga Boost?
It is certainly not out of the question that we will also develop another Boost version in the Lampuga production at some point. At the moment, however, we are concentrating on our AIR model in the current Lampuga production, which is not being developed and produced for a niche market due to its wide range of uses and the large user group, but which promises large quantities.
How often do you ride your boards yourself?
I enjoy every ride on our Lampuga jetboards, even if the time doesn't work out as often as I would like. This is mainly due to the fact that in Germany's southwest we have the Black Forest on our doorstep and rather think of winter sports, hiking or mountain biking, but unfortunately we are not located directly at the sea or other suitable waters. Unfortunately, our Swabian sea, Lake Constance, is not approved for the use of electrically powered water toys. Jetboarding therefore involves a longer journey for me, even if our technicians and developers can make their regular test runs on a nearby quarry pond. In the end, jetboarding is the most fun for me in the warmer southern areas of the Mediterranean.
Product safety is always emphasized by Lampuga. Can you explain the reasons and give an example.
As mentioned at the beginning, we place special emphasis on product safety in addition to general product quality in the Lampuga production. As an owner-managed company, we feel a particular obligation to our customers in this regard and, when it comes to sustainability, we don't just think about the ecological consequences, but also about long-term customer relationships and satisfaction. Safety is of utmost importance, especially for a product that is used as a water toy for the whole family. In addition to a high product quality in material selection and processing, we have deliberately invested in more expensive and mostly also heavier components and materials in favor of maximum safety. We have thus placed safety above weight minimization. A good example of our quality and safety philosophy is our internationally certified rechargeable battery, which is not made of plastic but of solid aluminum housing and is additionally encapsulated from the inside.
Anything else you'd like to share with our readers?
The pandemic with your travel restrictions has massively affected all of us for over 2 years now, our awareness of sustainability and nature has re-developed in the general public during this time. I sincerely hope that in 2022 we will finally find our way back to normality and people will be able to use their free time again without any health risk and with the greatest possible freedom. Jetboarding, no matter if at home or on vacation on exotic waters, will definitely help to experience, feel and enjoy this freedom again. In this sense I wish as many water sport friends as possible all the best and 'Just Ride'!
Many thanks to Alexander Pick and his team for the Lampuga production tour, the interview and the insights into the production. If you have any further questions, please post them in our forum. Further Lampuga videos can be found on the E-Surfer Youtube Channel.