EWAKE Boards from Schwalbach in Germany presents the 2021 models just in time for the new year. The boards have names like Spark, Diavolo Comet, Zeus or Bee.
In August 2020 we had the opportunity to test the 2020 models from EWAKE Boards and then visited founder Sascha Pollrich in his production facility in Schwalbach. At that time there were two models, the Standard (2 Jets) and Pro (3 Jets), each with an output of 10 kW or 19 kW. More about this in our EWAKE Jetboard Test article.
As of today, the new models are presented on a revised website. The boards are still handcrafted and can be produced in a customer-specific design upon request. There are now three model series with 6 boards in total.
The three lines are called Pro, Race and Fun, each of which is intended to appeal to different customer groups. The Pro series is aimed at the ambitious hobby rider, the Race line at adrenaline junkies and the Fun series at beginners and very light riders. There are two models per line and each of these six variants has been given its own name. The boards are offered in a standard color combination as well as a custom design. Furthermore, with some models you have the choice between two performance levels and different bindings or a rubber deck. The version with 40 PS (30 kW) is powered by two jets while the 30 PS (22 kW) version works with three jets. The version with three jets offers a more even distribution of power and better acceleration in turns. The fun series offers a 15 horsepower motor to avoid a sport boot license in some regions.
EWAKE Boards Pro models
The Pro model is available in the Diavolo and Bee versions. The Diavolo comes standard in a black and red color combination and with a length of 162 cm and up to 30 kW (40 hp) power it is supposed to be suitable for drivers up to 120 kg. Alternatively, there is the Diavolo with an output of 22 kW or 30 horsepower. The longer shape, with a width of 52 cm, enables earlier gliding and long curves. The price is between 12,225 and 13,599 EUR depending on the version according to the EWAKE website. All prices here are including 19% German VAT.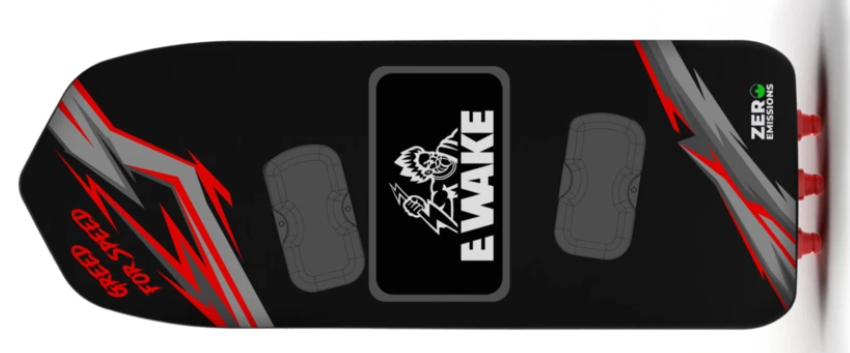 The Bee Jetboard, on the other hand, is small and agile. The 151 cm short jet board is aimed at experienced riders who have no problem with water starts and the use of bindings. At 61 cm, it is a little wider than the Diavolo. The board comes with 22kW (30 HP) that power 3 jets. In addition to the rubber cover, foot straps or ratchet bindings are also available. The price is between 12,599 and 13,999 EUR.
Race models
The race models, which are aimed at ambitious riders interested in races and slalom courses, are also available in two versions. The Spark with a length of 161 cm and a width of 62 cm specializes in slalom courses. The board is offered with 22 kW and two jet engines and a gray-black design in the standard configuration. Depending on the version, the price is between 13,299 and 14,399 EUR according to the company website,
Anyone interested in racing should take a look at the Comet model. At the moment there are almost only races for gasoline-powered jetboards, but hopefully that will change in 2021. With a length of 173 cm and a width of 52 cm, the race board, armed with 40 hp and 2 jets, should be characterized by directional stability and immediate performance. The price is between 13,999 and 14,999 EUR.
Fun models from EWAKE boards
Last but not least, the fun models from EWAKE Boards, which are aimed at light riders and beginners. The Bee Light is based on the shape of the Bee Jet Board. With only 15 HP and 2 jets, it does not require a license in most regions and is aimed at riders up to 75 kg. For these light riders it offers a similar driving behavior as the Bee. The price is between 11,499 and 12,999 EUR.
The Zeus with a length of 190 cm and a width of 62 cm is the beginner's eSurfboard from EWAKE Boards. With 2 jets and 15 hp, it is also license-free and easier to ride thanks to its larger volume. The price is between 6,299 and 7,499 EUR.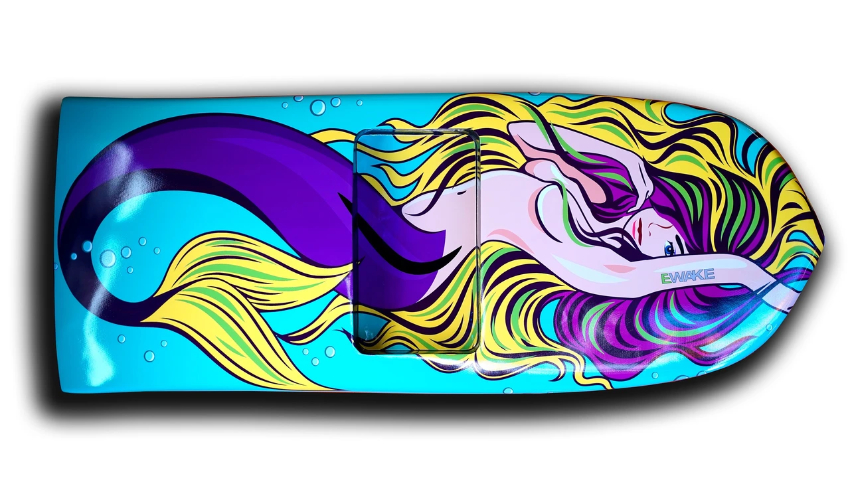 The young company from Germany has big plans for 2021. Founder Sascha Pollrich not only expanded his product portfolio, but also brought fresh money and sales experience into the company with Co-CEO and investor Peter Ruwe. With the custom design and various configuration options, they position themselves as a premium product, which is now also reflected in the price. Only two models do not require a license, while four models require a sports boat license in some regions due to the 30 and 40 hp engines. This is a different approach to other competitors.
The battery check service is also unique to date. Customers are offered to store the batteries in winter. There the batteries will be checked, possibly repaired or upgraded if requested.
We are already looking forward to the first test rides in spring. More information at: ewake.shop