The LIFT3 also known as eFoil e3 was announced March 29th 2021. Three years after the first commercially available electric hydrofoil worldwide was launched by Lift Foils. The E-Foil market leader from Puerto Rico (USA) did launch their third generation.
About Lift Foils
Lift Foils has spent over a decade creating foiling experiences and released its original eFoil in 2018. Lift launched ten years ago and is not only the the maker of the first eFoil but also for classic hydrofoils, custom foils, wings, and boards for discerning customers who want the best out of their gear.
The eFoil is a surfboard powered by an advanced lithium-ion battery and electric propulsion system that allows riders to levitate over water. As the first company to bring such a groundbreaking watercraft to market, Lift continues to push boundaries at the forefront of a worldwide revolution in surf with its newest eFoil lineup.
eFoil e3
Lift's 2021 new eFoil board lineup includes the LIFT3 (now available for purchase in our shop), and the LIFT3 Elite (shipping in June 2021), granting riders an enjoyable personalized experience and the sensation of surfing and flying all in one. The eFoil is easy for people of all athletic capabilities to learn, and anyone can effortlessly experience the incredible sensation of soaring over the water. The 2021 lineup's enhancements and varying price points gives now even more flexibility for e-foilboard users.
After three years of board design and feedback from thousands of eFoils users, the LIFT3 has now officially come to life. The LIFT3 is the most advanced and innovative eFoil yet and offers best-in-class specifications across all product categories: durability, weight, maneuverability, battery life, customization, and speed according to Lift Foils.
LIFT3 - what's new?
The new 2021 Lift Foils eFoils allow all riders to experience the thrill of flying over the water, with best-in-class specs across all categories
The LIFT3 and LIFT3 Elite are the company's newest personal water vehicles, available in four completely new board sizes, providing the world's most sophisticated adventure, and using the finest materials and state-of-the-art technology
The 2021 lineup offers a customizable experience with 9 advanced hydrofoil wing options to pair with the Lift boards
The new eFoils are the lightest, most durable, longest-lasting, fastest, and most customizable on the market, setting a new standard for personal water sports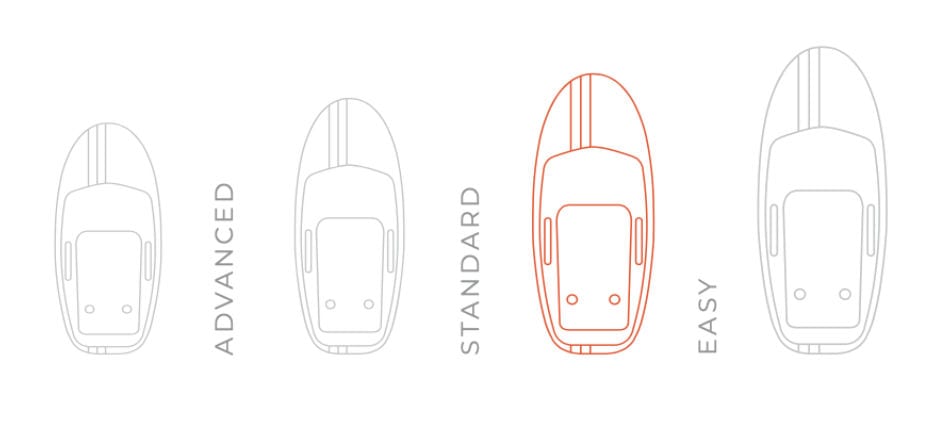 eFoil e3 - upgraded construction
The LIFT3 boards are made from a new proprietary carbon fiber blend engineered specifically for eFoil performance. They also feature enhanced carbon masts and upgraded carbon fiber electronic boxes. Lift Foils has always offered most durable eFoils, but the new carbon fiber build makes the LIFT3 even 50% stronger.
eFoil e3 - new board sizes
The LIFT3 boards come in four new sizes: 4'2 Pro (127 cm), 4'9 Sport (145 cm), 5'4 Cruiser (163 cm), 5'9 Explorer (175 cm). These boards feature an updated shape for increased aerodynamics and maneuverability. Combined with the upgraded construction, the new sizes reduce the weight by 30% making the LIFT3 boards the lightest eFoil options on the market.
LIFT3 - Dynamic wing options
Lift has also launched nine new wings as part of its 2021 lineup, including three of its acclaimed high aspect wings. Carefully crafted for effectiveness, stability, and performance, the wings attach to the eFoil mast. The shape of the wing changes the eFoil riding experience offering a true balance between efficiency and turning. All wings are interchangeable across the LIFT2 and LIFT3 and work for multiple foil disciplines, including surfing, eFoiling, or sailing, allowing Lift to provide the most customizable eFoil experience. The following table is missing the 9th wing, which is the 60 Surf V2 only designed for big wave surfing and not applicable for the eFoil.
[table id=39 column_widths="40%|60%"/]
Further details at our wing shop page.
Enhanced electronics and propulsion
The eFoil e3 electronics and propulsion system has been completely upgraded for enhanced speed and efficiency. Like former models, the LIFT3 is still electric-powered and noise- and emissions-free, to minimize disturbing the environment. The new eFoils are the fastest models out there with 30mph (48 km/h) ride speeds, and have the longest-lasting battery life, offering 2 hours of ride time.
The LIFT3 is available for purchase in our eFoil shop from now and will ship from early April. The LIFT2 is available in limited quantities and will be sold out by probably mid of April.
[table id=38 /]
** Prices: These are European prices incl. 19% German VAT, shipping from the US and import fees
LIFT3 Elite
Shipping in June 2021, the LIFT3 Elite will be the most sophisticated eFoil in the market. These boards will incorporate the same updates as the LIFT3, as well as an upgraded carbon fiber hand controller with a soft rubber grip, an adjustable milled titanium trigger, and a colored display with speed and GPS location functions to pair nicely with the company's improved app.
These boards will also have an enhanced carbon fiber propeller and shroud, featuring a quick-release mechanism that allows for swapping various components in seconds with no hardware needed. The tailored cases that come with the eFoil e3 Elite are lightweight with high-performance removable wheels, all of which can be easily broken down for storage.
Lift Founder and CEO Nick Leason notes:
"Even though 2020 brought a lot of uncertainty, our eFoils continued to create exceptional experiences for riders everywhere, as people were able to get out there to explore and enjoy nature while staying socially distant. We're constantly evolving and innovating, and we're ecstatic about bringing the LIFT3 to market. Our most advanced and sophisticated eFoil yet gives our community of fans and riders around the world more choices to carve out unique adventures."

Nick Leason, CEO Lift Foils
What do you think about the new LIFT3 aka eFoil e3? Please share your thoughts in our forum.