Narke ElectroJet – There were a few electric jetski concepts on the web, but none has made it to production yet.
The Narke ElectroJet is supposed to change this in the near future. An Hungarian development team of boat designers and shipbuilders is now showing their prototype.
The Narke ElectroJet is currently tested in Hungary and is supposed to be very silent. Not only due to the electric propulsion, but also due its special shape.
The electric Jetski from Hungary is made out of Cabon Fiber and has a water-cooled engine with 45 kW horsepower.
45 kW is quite a lot if you compare this to the electric surfboards where the strongest jetboards have about 16 kW.
It promises a speed of 55 km/h or 34 mph and a operating time of 1.5 hours at normal use, which probably means not at full speed.
But who would ride with 55 km/h for 1.5 hours anyways …
The battery is charging to 80% in just 2 hours and is replaceable in a few minutes.
We are wondering what a second battery would cost. The smaller batteries for electric surfboards are already a few thousand EUR.
It has a nice customisable Smartdisplay which fits very well to the overall futuristic design and gives a lot of useful information such like speed, temperature, time, date, distance and water temperature.
Check out the video: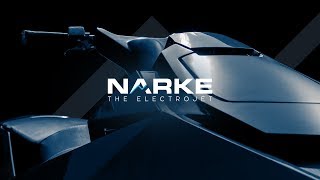 No pricing information is released yet, but we will keep you updated.
Given that the electric jetboard Curf is up 22,000 EUR with 16 kW power it will be highly likely not inexpensive.
Batteries are still expensive.
Mass production is planned already for 2018 in Balatonvilág, Hungary.
We have seen lots of these announcements in the electric surfboard industry, but most of the jetboards are usually delayed for a year or more.
It will be interesting to see when the electric jetski will be available for sale and for which price.
What do you think about this project? Please discuss at forum.e-surfer.com/c/electric-jetski-e-jetboat-pwc
More information about the electric jetski Narke ElectroJet at: narke.com