If your are looking for a cheap electric surfboard check out our EasySurf S1 Review video. A board from ePropulsion Innovation (HK) Ltd. If you look for ESURF from Kai Lenny follow the link below.
ESURF vs. EasySurf
NOTE: This originally called eSurf was renamed to EasySurf. If you are looking for the ESURF Jetboard ridden by Kai Lenny visit our ESURF article.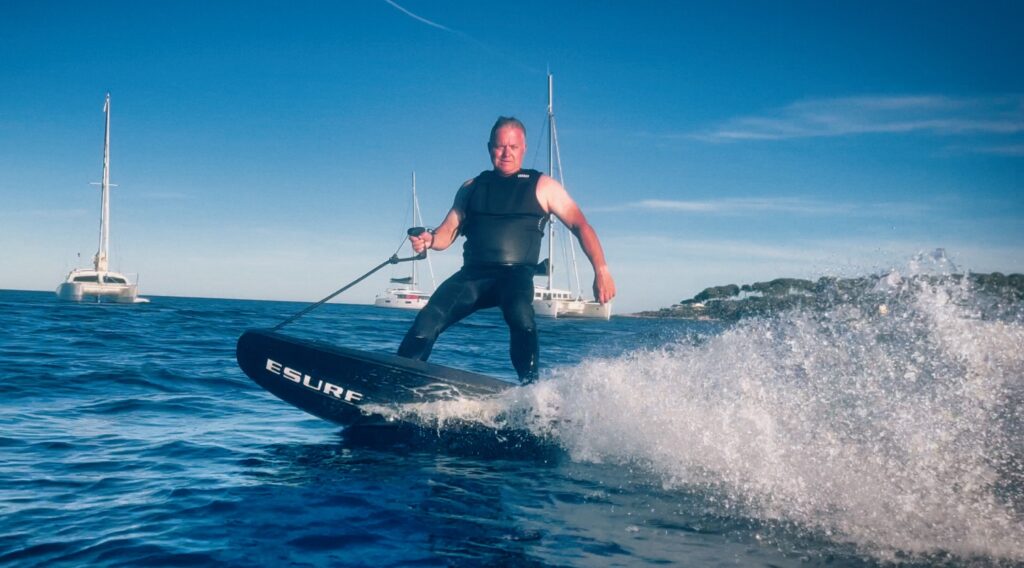 The following article was already written in 2017. In the meantime, we had the opportunity to test the board ourselves. The kids had fun, but riders over 70 kg couldn't get a ride. The performance was simply not enough.
According to our information, the EasySurf S1 is no longer available.
EasySurf S1
The EasySurf S1 has an optional hydrofoil and is selling for under 3,000 USD.
Watch the EasySurf S1 video review as part of the Allstar Jetsurf tour by Jet Board Limited​, Jetsurfingnation​ and E-Surfer​. Danny Tao, Clarbi Lu and Peter Pan from eSurf visited our team for a full review and test ride.
ePropulsion is known for their electric SUP Lagoon and has now created the sub-brand EasySurf for electric surfboards.
Cheap electric surfboard specs
The cheap electric surfboard with its bright orange and blue colors is is inflatable and foldable which makes it easy to transport. A detachable Hydrofoil is supposed to let the Rider fly over the water, this may help riders above 75 kg to gain more speed.
How can they create such a cheap electric surfboard? It comes directly from China and the power of the board is limited.
The website claims up to 26 km/h or 16 mph. When E-Surfer asked ePropulsion how the electric surfboard performs with drivers above 75 kg we got following answer: A rider with 60 kg can reach about 25 km/h and a person with 80 kg can reach 22 km/h with the hydrofoil. No tests where done with yet with surfers of 90 kg or above.
ePropulsion promised us to send a board for a full review and testing.
Price
The product will be released end of November and the mission was to design a cheap electric surfboard for under 3,000 USD compared to many other boards above 10,000 USD.
While may be not the right board for heavy riders it could be a good family leisure board and a start into the electric surfing sport. Especially since it is foldable and can be put into the back of your car.
Technical specs
The eSurf has the dimensions of 2300 x 760 x 100 mm / 90 x 30 x 3.9 inch and a weight of 26.7 kg / 59 lbs with battery or 17.5 kg / 38.5 Ibs without battery.
The swappable lithium ion battery with a weight of 9.2 kg or 20 lbs is supposed to be good for 20 minutes at maximum speed. It charges within 2 hours and has the dimensions of 470 x 350 x 84 mm / 18.5 x 13.8 x 4.3 inch and is designed for 300 charging cycles. The capacity is 2,000 mAh with a maximum voltage of 54.6 V and 65 Ampere.
The brushless motor for the built in jet engine offers 2.8 KW at 48.1 V and 58.2 Ampere and a maximum of 4,640 rpm (rotations per minute). The impeller has a diameter of 80 mm or 3.15 inch.
The EasySurf S1 is designed for riders between 40-90 kg / 90-200 lbs and has a wireless remote which is paired to the jet system and controls the speed. It can be hold in the hand or attached to the wrist and supports an emergency break. It also comes with an ankle security leash with has a kill switch to stop the board in case the rider is falling into the water.
The cheap electric surfboard comes with a one year limited hardware warranty. More details about their warranty at their website under support, where you can also download a 30 pages user manual, which gives more information about the Hydrofoil, remote control and the setup.
You can easily compare the eSurf with other boards at our electric surfboard comparison. We hope you enjoyed this EasySurf S1 review.
Learn more about this cheap electric surfboard at esurftech.com