Today it's about fireproof transport boxes, eFoil stands and what will change at e-surfer in 2021. Especially the forum gets a more important task.
First, we would like to point out our video interview with Mike from Jetsurfingnation. In the interview we answered his questions around fireproof battery transport boxes, battery safety and mobile charging. Also, the video includes an outlook to where the future of eSurfboards might be headed. But take a look for yourself:

Before we get to the changes for our blog in 2021, we'd like to introduce you to two new products from our store that we designed ourselves.
Fireproof transport boxes
The safe storage of lithium ion batteries of eFoils and jetboards has been close to our hearts for a long time. We store a lot of batteries and sleep for example in our camper directly above them. After many discussions with eFoil and Jetboard manufacturers, scientists in the field of fire protection, transport companies in the field of dangerous goods as well as manufacturers of transport containers, we had already written two articles on the subject of battery safety.
For three years, we experimented with steel boxes, pyrobubbles and other components. The steel boxes were safe, but unfortunately too heavy for mobile use. The pyrobubbles may be able to contain the fire, but they are very cumbersome to handle. They create dust and, in addition, the small bags are not tear-resistant.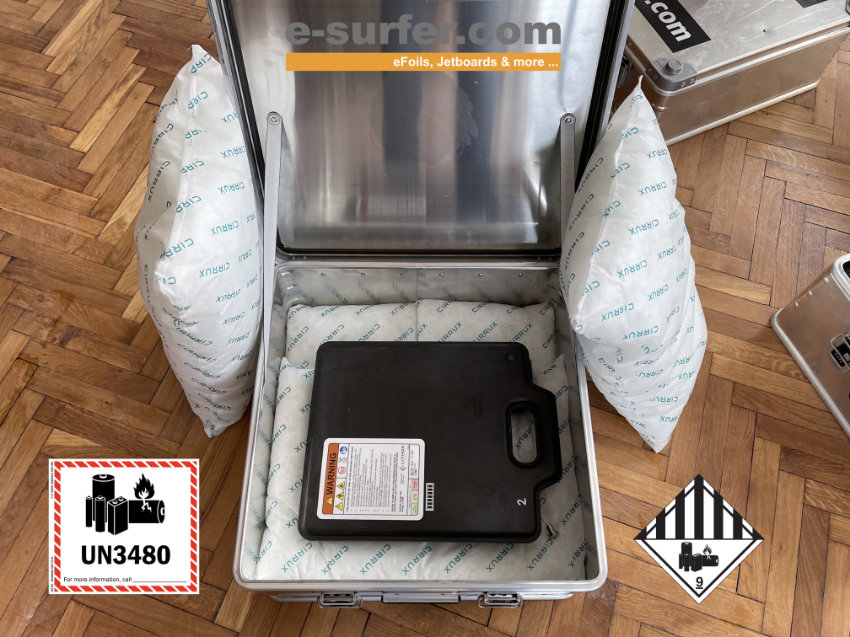 At the moment, we feel that the best solution that is still affordable for an end customer is a combination of Zarges aluminum crates with Cirrux fiberglass cushions. The aluminum boxes are lighter than steel and the Cirrux cushions are tear resistant and do not create dust. We experimented with different sizes of Zarges boxes as well as Cirrux cushions to find a universal solution. Because of the sometimes very different sizes of the batteries, there are two models for now. Especially the batteries from Radinn and Lampuga are very large compared to the eFoil batteries. But also the cushions, which are available in 4 sizes, must be selected individually for each manufacturer.
So far we have tested the ideal combination for the batteries of Lift Foils, Radinn, Lampuga and Jetsurf, but in the next weeks we will do this also for other manufacturers like Fliteboard, Onean and so on. We will post the pictures of this in our forum.
You can get the E-Surfer battery boxes now in our store.
eFoil Stands
In April we will open our new store directly at the waterfront at the Funkhaus Berlin. There is already our showroom today, but with the location at the water the test rides of the eFoils and Jetboards will be even easier. For the new store we were looking for better eFoil stands. We have been using the Lift Foils eFoil stand for three years, but it wasn't stable enough for us. It was originally designed for hydrofoil surfboards without a motor.
However, the eFoils are quite a bit heavier and so a better solution was needed. They are not cheap, but visually appealing, larger and wider, and equipped with rubber pads. Due to the small number of pieces, the purchase costs are very high, so we do not hope for lucrative sales with them. But we need them anyway for our own store and there are already some inquiries.
Therefore the eFoil stand is now available in our store as well.
Last, but not least the e-surfer updates
Next month our e-surfer blog will turn four years old. In the early days, eSurfboards were hard to get and eFoil manufacturers had not yet started shipping. During this time we have reported on every new announcement of jetboards and eFoils. Many of these boards either didn't make it to market or disappeared very quickly.
We realized that all these announcements for beginners in the field of eSurfboards are leading more to confusion than bringing great benefit. Therefore, we have already in recent months no longer written an article for each new announcement. Also we try to limit our comparison tables to models that are really on the market or we are sure that they will come soon.
We want our articles to offer real added value instead of just taking the manufacturer specs from any new announcement. That's why we already had articles on topics like battery safety, transport and storage, winterizing eSurfboards and so on. Of course, we would like to continue writing about new models, but we would like to test them ourselves or at least see them live at a trade show or during a manufacturer visit. We also focus on our own innovations like the eFoil stand or fireproof transport boxes. And hopefully in the summer we will have our own test station to directly compare the performance of the jetboards. We have been planning that for a long time.
However, the new announcements will not disappear. You can still find out about everything that is announced somewhere on e-surfer. Only these announcements will move from our blog to the forum. There, after three years, a real community has formed. Every new announcement that is taken up somewhere can be seen there within hours and is discussed interactively. If you haven't signed up for the forum yet, you should do so in order not to miss any more news.
2021 will be an exciting year. Keep surfing …