Last weekend we had the chance to take out the Onean Carver for an electric surfboard test on a lake close to Berlin.
Rider Jens L. had to wait 1.5 years until he got the electric surfboard for his 6,000 USD (including extras) investment. He ordered on July 29th 2015, paid August 3rd 2015 and got the Onean Carver on January 15th 2017. Winter time in Germany.
The Spanish manufacturer promises with 4,400 watt up to 24 mph for riders up to 165 lbs on its website. Our rider had 174 lbs with wetsuit, but could not get faster than 16.8 mph which was just enough to get gliding.
The 2 batteries we tested were supposed to last 20 minutes, but after 12-15 minutes the speed went below the glide phase.
Re-charging the battery of the Onean Carver took us 150 minutes versus 90 minutes according to the manufacturer.
Positiv was the easy to exchange battery which just weights 27.5 lbs and the silent jet engine.
Onean claims a weight of 53 lbs with battery, but we found our board was 65 lbs.
The Onean remote control
The waterproof Bluetooth remote control comes as a wristlet and has a short cable with a pressure sensitive sensor. If you press harder you get more speed.
The wristlet is convenient, but the quality of materials ist not the best and if you press hard all the time due to the limited speed your thumb starts hurting after a while.
The Bluetooth remote control also lost the connection a few times.
Electric Surfboard Test – Conclusion
You get what you pay for. With 4,130 USD plus VAT the Carver is so far the cheapest electric surfboard on the market. For riders up to 132 lbs it should have enough power for enjoyable rides.
For riders above 176 lbs (including wetsuit) you probably need more battery power and a stronger jet engine. The materials of the board itself are good, but the fins and remote control were disappointing.
More details about the board you will find in our Electric Surfboard database, where you can compare the specs with other boards.
Onean Carver Review Video:
Und here a video from our partner Mike at Jetsurfingnation: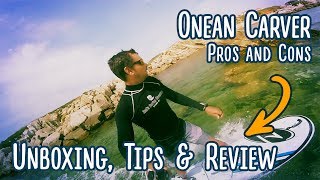 More picture are in the PICTURES section.
One video is with music and speed indicator by GoPro and the other one is without music in order to get a feeling about sound and acceleration.
Check out the availability in our electric surfboard shop: Onean Carver electric jetboard for sale
Check also the Website of the Onean Carver.