I have been watching the Audi eFoil (official name Audi e-tron Foil) since 2019 and was there in person for its first debut at CES in Las Vegas. A few months later, the Aerofoils team visited me in Berlin and we were able to test the first prototypes already in summer 2019. More about that further down in the article.
Since then, a lot has happened and I have been in continuous contact with Franz Hofmann, the brain behind the Audi e-tron Foil. Most recently, he visited me in Berlin in November 2021, where I had the opportunity to test the latest version of Audi's eFoil. Compared to other electric hydrofoils, it does not use an open propeller, but a jet propulsion system.
This version is now ready for mass production and 2022 should finally see the start early next year. While the 2019 prototype was not able to let me take off with 90 kg weight, today's model had no problem with that.
Audi eFoil review November 2021:
Audi eFoil review 2Aerofoils is still not sharing the exact specs of the Audi e-tron Foil Board before the official launch, but in personal conversation and testing I was able to find out quite a bit. Of course, I can't share any information here that was said in confidence, but I would like to describe my own experience of the test ride here.
With about 5 kW power is similar to the current market leaders Lift Foils and Fliteboard. Theoretically, a jet drive is not as efficient as a propeller drive, but the team around Franz seems to have done a good job. The Audi eFoil or better Audi e-tron Foil didn't have the slightest problem getting me to accelerate and take off with 90 kg plus a thick 5 mm wetsuit and vest. There was room to go up, and Aerofoils states the maximum weight of the rider as 100 kg.
The engine noise was at a higher frequency but comparable to the Lift and quieter than Fliteboard. This is because Aerofoils as well as Lift were able to eliminate a gearbox. The remote is smaller than Lift but larger than Flite and feels good in the hand. The remote's color display was bright enough and easy to read.

The wings of the Audi electric hydrofoil are very different in design from those of other manufacturers, as you can see in the picture above. In my Audi eFoil test ride, they were very agile and made a good impression. Probably a bit of getting used to for beginners, but quite comfortable. In my review, I rode the big board with the big wing. After all, we had November and it was cold 😉
There is a smaller board as well as smaller wings, for light riders and those who like it sportier. It is also easy to see in the photo above that the engine is in line with the front and rear wings. This allows the maximum use of the 80 cm mast.
The Audi eFoil team is the first manufacturer to use a jet drive to avoid injuries from a propeller. Normally, these have a lower efficiency and a lower static thrust than propellers. That it is not easy to build such a drive can be seen with other e-foil manufacturers, such as VeFoil, who have tried this so far, but then failed due to the lack of efficiency.
The Audi e-tron foil team now seems to have overcome this, according to their own statements. With a rider weight of 75kg and an average speed of 20 km/h, the Aerofoils team riders manage a riding time of up to two hours, according to Franz Hofmann.
Of course, this depends very much on the weather conditions, the altitude and the setup chosen. In Franz's experience, most testers are riding with their Audi e-tron foil for about 90 minutes. Unfortunately, I lacked the time (and outside temperature ;-)) to test this myself. Next time …
According to Franz, the Audi e-tron foil should be the safest eFoil with an absolutely competitive range.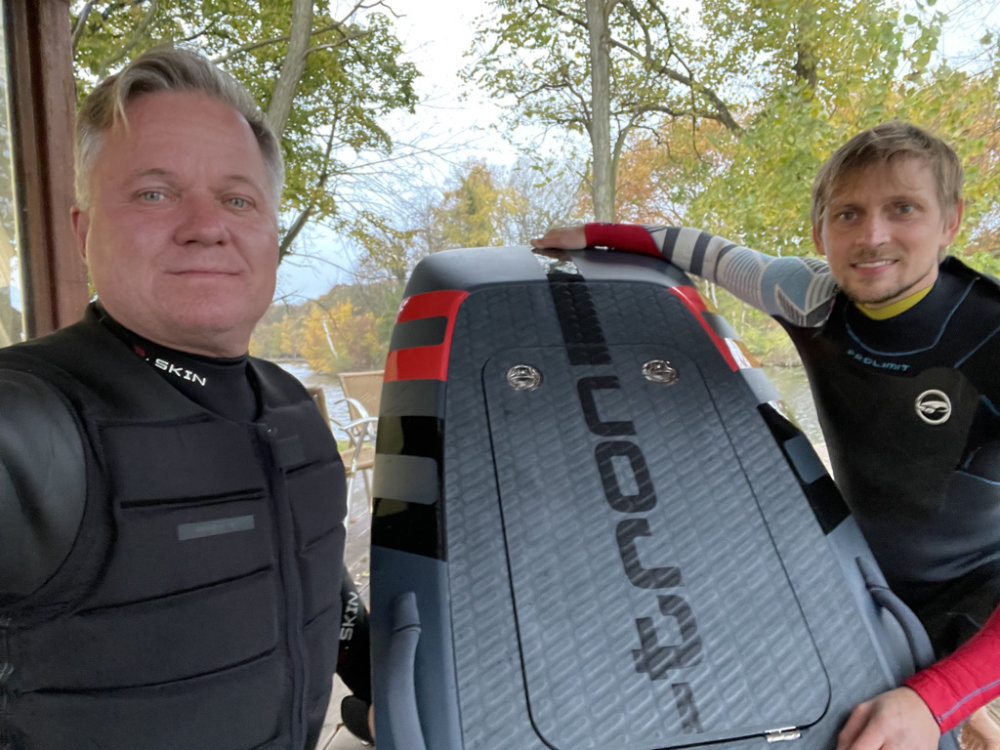 The Audi surfboard comes in a board bag and the mast, wings, power supply and other components also come in a accessory bag. The battery is similar in design to Fliteboard's and made a good impression.
The complete eFoil including the mast is made of carbon fiber and weighs about 32 kg with the battery. I would love to share more pictures, specs and videos from our Audi e-tron foil review here, but at this time Aerofoils wants to wait for the official launch early 2022 to share more details.
Buying the Audi eFoil:
Those who want to buy the Audi eFoil will have to be patient for a while. We expect it to be available from spring 2022. The price is expected to be 12,499 EUR without VAT. That would be about 14,890 EUR incl. 19% VAT in Germany.
The board is to be offered in two colors. "Midnight Blue" and "White Sand". Furthermore, there will be two board sizes.
2019: Audi e-tron Hydrofoil review in Berlin
This was our article from Summer 2019: The Audi e-tron Hydrofoil team visited us for a tour in Berlin, where we were able to compare Audi's jet-powered e-Foil with Lift's eFoil. The Lift eFoil has been in series production since summer 2018 while the e-tron Hydrofoil is a prototype. So this comparison is not about the details, but about the different concepts.
It would be too early and not fair to publish a full review of the Audi e-Foil, as it is not for sale until 2022. These are early prototypes to test different shapes and technologies. Nevertheless, the team had a lot of fun foiling. The biggest difference between the two e-hydrofoils is the propulsion system. Most e-foils like the one from Lift Foils use a propeller, but the team from Bavaria uses a jet engine.
I was surprised at how quiet the jet engine was. I had expected it to be much louder than the propeller drive, but it was about the same. Propeller drives are more efficient, however, and the e-tron prototype we tested was designed for riders under 80 kg. I was able to surface surf, but was too slow to fly with 92 kg weight. Very soon the team will have a version for heavier riders and I look forward to seeing them again to ride it.
But not only the propulsion is very different, also the board itself and the wings follow a different concept. The current e-tron board weighs 28 kg including batteries, which is 2 kg less than the board from Lift Foils weighs in. The new larger board from the Audi team will weigh even 4 kg less. However, they are currently using fewer battery cells with very simple housings, so it would be too early to estimate the final weight of a series production.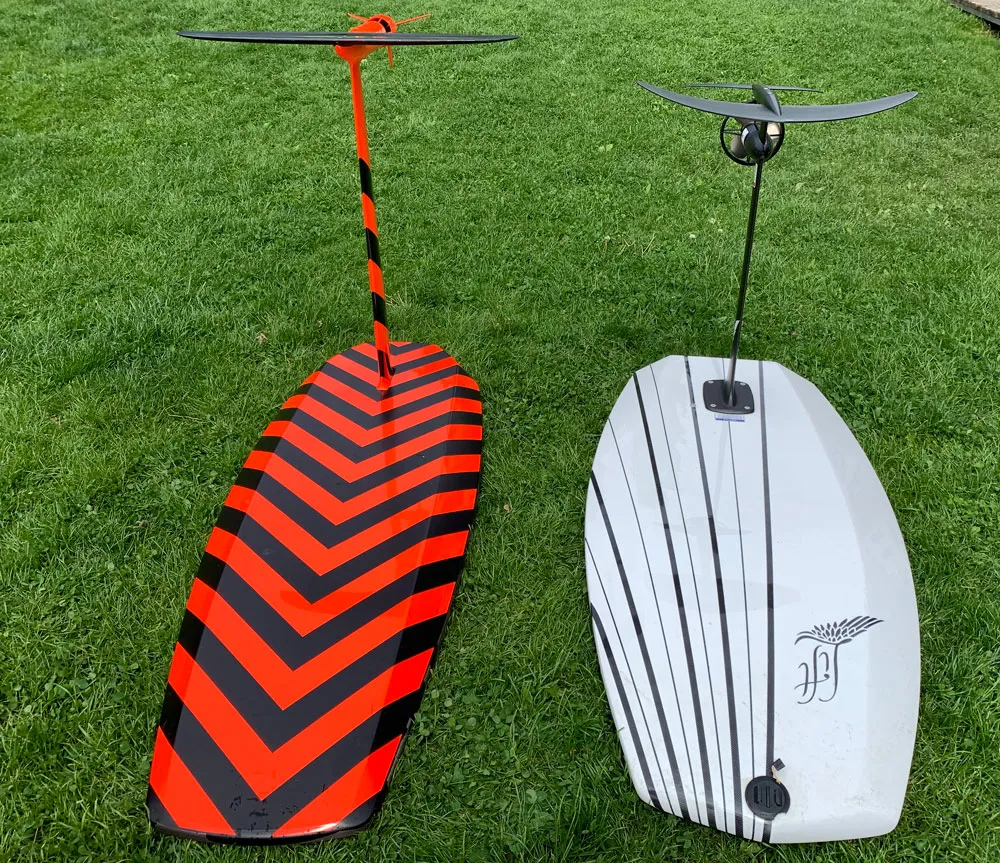 The two developers Franz and Christian weigh under 75 kg and therefore the current early boards are designed for such riders. The wings are much smaller than the 170 wing we used on the eFoil. The largest wing they currently have is comparable to a 150 wing from Lift. Lift has wings up to the 250 for beginners and schools. You can see in the pictures that the shape of the wings is very different. What you can't see in the pictures is that the Audi wings have more airfoil, which results in more lift and would warrant smaller wings. Similar to the airplane.
In the picture below, you can see Audi's current three wings. In the background is the smallest in orange, followed by the second largest in orange in the front and the largest wing in black.
The battery packs, the casing and the remote control are still very simple, as you would expect from a prototype. These details can be optimized once the basics are settled. Currently, the team is using the Maytech MTSKR1805WF waterproof remote for 249 EUR. According to Franz, the quality is rather poor, but they will develop their own remote anyway.
The E-Hydrofroil may not be launched under the Audi brand. Franz is an engineer at Audi and the company believes that it currently fits well with its electric mobility strategy. That's why they are presenting the e-tron Hydrofoils at trade shows and events. Audi also supports Franz and Christian with technical know-how and resources. However, the two guys founded their own start-up called Aerofoils GmbH to bring the product to market.
We made a short video in which you can see the Audi e-tron E-Foil in action and driving next to the Liftfoils eFoil:
Audi eFoil at CES 2019:
This was our first article about the Audi eFoil in January 2019: The Audi e-tron electric hydrofoil with jet propulsion is a project from Audi's engineer Franz Hofmann and Christian Roessler from Technical University of Munich. It was showcased at Kiel Regatta & LA autoshow in 2018 and the CES consumer electronics show in Las Vegas in January 2019.
In 2017 he had the idea to build an AUDI e-foil which showcases how exciting the electric mobility future can be.
I though it fits perfectly into the e-tron family: We do research in micro mobility, for example air taxis and e-scooters, so why not also water vehicles like e-foils. And an e-foil is for sure the most exciting water vehicle you can experience.

For me it's basically the "future of surfing" – Everyday, Everywhere, Anytime

Franz Hofmann
So the two guys started to think about an electric hydrofoil, one guy with the background of water, the other of deep aircraft knowledge.
We think completely different. I need a robust product for wave surfing and for an exciting time in the swell. Chris, as a worldchampion and worldrecord leader in "pylon raceing" is always striving for lightweight construction and high efficiency. The outcome is a unique and robust design with a high efficient electric jet-propulsion system fully integrated in the fuselage of the hydrofoil. But the most important fact is the inherent safe construction of the jet!

Franz Hofmann
The first prototype was tested in the beginning of 2018 and had still a battery pack on top of the board as you have seen with some early DIY electric hydrofoils already. 3 months later , the next generation had the battery pack already integrated into the surfboard. Franz is getting a lot of support from his colleagues at Audi: 3D prints, plugs, carbon parts etc. and the design, which is the beautiful handwriting of Max Fischhaber a gifted interior designer and talented surfer.
"This helps a lot to accelerate the development. We have all the great expertise in one company for lightweight construction, aerodynamics, electronics, machining parts and designs. You just have to bring them all together."

Franz Hofmann
Franz and Chris build up a team of enthusiastic experts inside and outside of AUDI and they are planning to produce a limited amount of boards in 2019 for beta testing.
Their goal is to combine the knowledge of aircraft design and AUDI technology into a unique product for watersports and fun.
The 100 cm long efoil is completely out of carbon fibre and the jet engine out of aluminium to allow better cooling.
Depending on the riders weight 3,5 – 5 kW power should be sufficient to fly above the water says Franz. For more speed and people with more weight 6kW maximum power is maybe the goal. Liftfoils for example has 5kW.
The battery shall last an hour and about 30 km which is similar to other electric foils.
For sure we design different wings for different use cases and never stop exploring, because an e-foil is nothing else than a personal airplane for water and everyone can imagine, that there is a huge number of parameters which influence the customer experience.

Franz Hofmann
The Audi e-tron electric hydrofoil with jet propulsion will start flying at about 17 km/h and reach a maximum speed of 45 km/h according to Franz. The weight of the prototype board is about 18 kg without battery.
Franz's plan is to start the production in 2020 in higher numbers.
With the experience gained so far we do a complete redesign now, so every detailed parameter I would tell you today would be wrong tomorrow.

For safety, the most important fact is the inherent safe construction of the jet. There is no danger of loosing your fingers.

Franz Hofmann
Given that mass production of the Audi e-tron electric hydrofoil does not start before 2020 and Franz is planning to redesign some components we will not list the board in our electric hydrofoil comparison for the time being.
For more details, pictures and videos visit our forum.