The Onewheel Pint X was recently introduced by Future Motion together with the GT model. Whether the Pint X or Pint suits you better, or maybe even the XR is what we want to find out in this comparison.
The Onewheel Pint X promises higher speeds of 30 km/h and with 19-29 km more range than the Onewheel Pint. However, this significantly affects charging times. While the Pint takes 120 minutes to charge, the Onehweel Pint X is at a full 225 minutes with the standard charger. Even with the optional fast charger, you still have to charge for 110 minutes. Almost as long as the Pint with the normal charger. Future Motion should have included the Hyper Charger for the price of about 1650 EUR.
The new Pint X comes in a blue (called Powder Blue), which resembles the blue of the Onewheel XR at first glance. But a yellow variant is also on offer. All in all, it is very similar to the Pint. It is just a bit thicker. This is due to the additional battery cells, which are responsible for the longer range. This is similar to the Onwheel GT versus the XT.
The OW Pint X is just as fast as the XR model and the range is also the identical. The driving experience is identical to the first Pint except for the higher speed and a little more torque. Compared to the XR, both Pints are more agile. So you could say the new Pint is the old Pint, just faster and with longer range. Here is a comparison:
[table id=50 /]
The Pint X is just as heavy as the XR, travels just as fast and even has the same range. Should everyone now go for the X instead of the XR? After all, it's cheaper than the XR. - Not quite, as the the riding style is significantly different. The larger XR has a wider foot stand as well as larger footpads. This makes it easier to ride, especially off-road.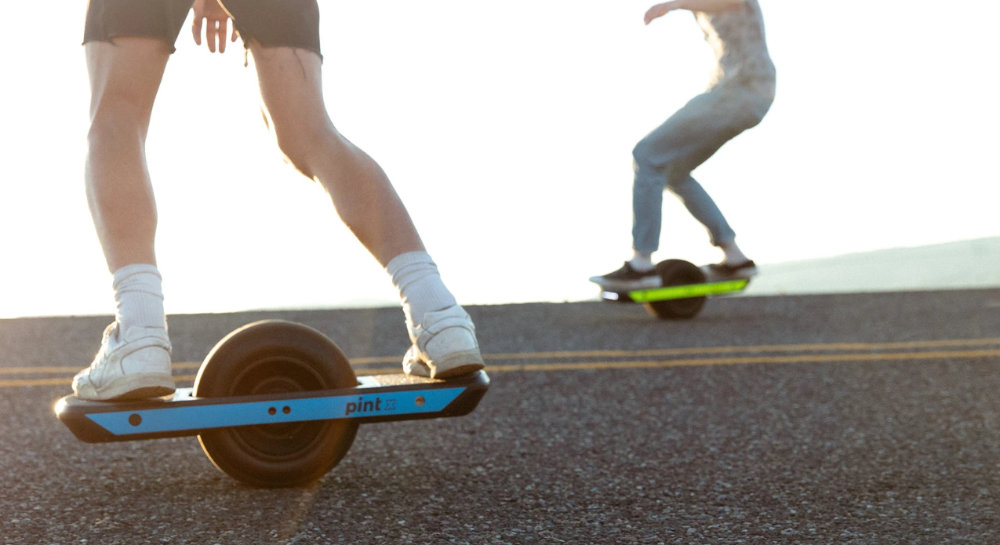 Although the new Pint is a little bit thicker, the previous accessories such as fender, bumper, hyper charger and the stand also fit here.
Pint X or Pint or XR?
I personally definitely prefer the XR. I feel safer with the wide stance and larger pads. I also miss the handle under the front pad on the Pint. In my opinion, this handle is much handier than the MagHandle. But that is certainly a matter of taste. If I would need to decide between Pint and Pint X I would prefer the X.
What do you think? Give us your feedback in our forum.