The eFoil price is not always easy to understand when buying an eFoil. Materials, battery size, power supply, etc. We clarify.
Some websites price boards "from 9,995 EUR" or less. However, after configuration in the checkout, the eFoil price can then exceed 16,000 EUR. How can this be? Well it's due to the sometimes hundreds of configurations, in addition to taxes and shipping costs.
Some of these configurations are not always useful, but first push the price down. A webshop usually quotes the lowest available eFoil price.
E-SURFER tip: You want to buy an eFoil, but are not sure which one is right for you? We are happy to advise you in the store, by email or on the phone. Our eFoil comparison also helps as a first orientation.
eFoil Price & Taxes
This article "eFoil price" is written from a European perspective. Some of the information - about e.g. VAT - cannot be easily applied to other regions. Many other statements below do and are certainly helpful when buying an eFoil. According to my information, a webshop is obliged to display VAT in the European Union. For example, all prices in our eFoil shop are incl. 19% VAT.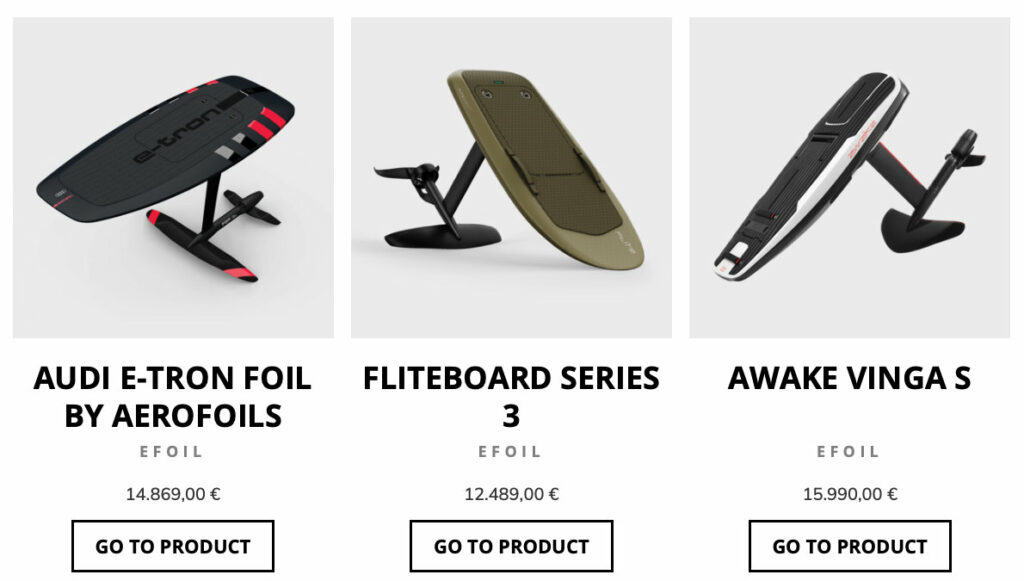 However, not everyone adheres to this or uses loopholes to get around it. Only at the very end, in the checkout, is the VAT added. And all of a sudden, the product is about 20 percent or more more expensive. When buying an eFoil via an import from overseas, it is even worse. Because there, import fees and handling charges are added to the eFoil price, which often only become known when the product arrives through customs.
Shipping
An eFoil must be shipped as both bulky and dangerous goods due to its size and battery. This does not make it cheap. Shipping an eFoil within Europe is approximately between 180 and 250 EUR. Especially the delivery to islands is more expensive (here sea freight documents DG are necessary).
However, some companies partly take flat rates of several hundred EUR and this is really too much. This artificially raises cheap bait offers again.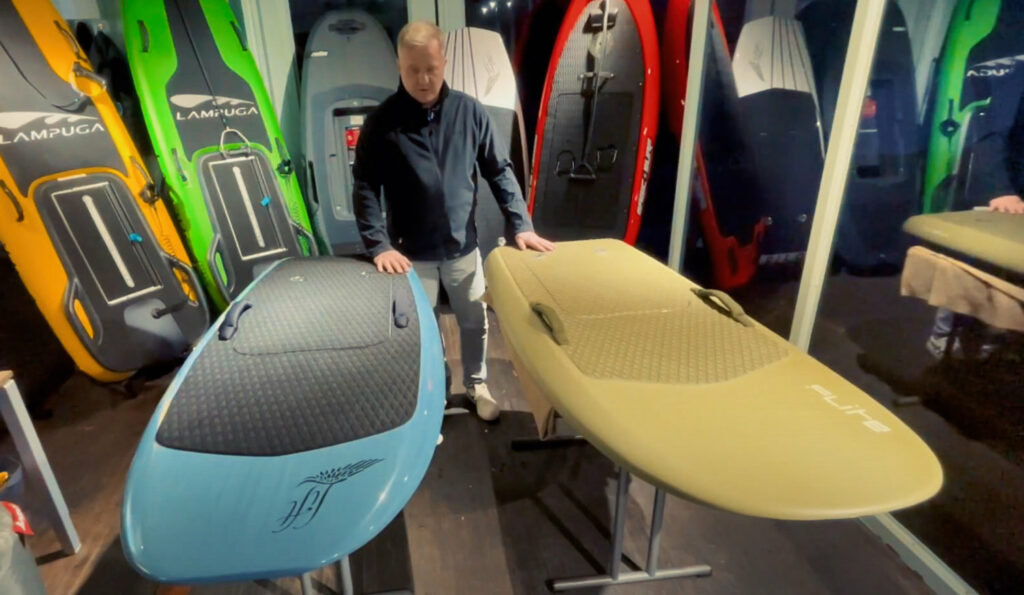 Materials
Since 2022, premium manufacturers have also moved to offering fiberglass versions in order to achieve a lower eFoil price. Previously, carbon fiber was relied upon for good reason. The top models continued to rely on carbon fiber, as this material is lighter and more robust. If you then choose carbon fiber when buying an eFoil, the eFoil price sometimes goes up by 2,000 EUR.
Even with the eFoil mast, there are manufacturers who either prefer a cheaper aluminum mast to the more expensive carbon fiber mast, or at least offer it as an option, so that the entry price moves down. The carbon fiber version is then usually about 500 EUR more expensive.
Battery
In the early days, premium eFoil manufacturers relied on similar batteries. They had 13 to 14 kg and about 2.1 to 2.2 kWh. This format had proven to be ideal when weighing weight to power.
Cheap eFoil manufacturers had already relied on smaller batteries earlier to bring the eFoil price (but also the range) down.
Premium manufacturers like Lift Foils later introduced smaller batteries. Actually not to lower the eFoil price, but to save weight for surfing waves.
Power supply
There are power supplies that take 4-5 hours to charge an eSurfboard, depending on the model. These are often called (standard power supplies) in order to offer an optional Quick Charger at an additional cost.
Premium manufacturers like Audi-Aerofoils only offer Quick Chargers as standard, but this year some premium manufacturers like Fliteboard have also started offering standard chargers to lower the eFoil price.
Is the eFoil price going down?
"Will the eFoil price go down in the near future?" we are often asked. Many people consider waiting to buy an eFoil. In my experience, this makes no sense. In theory, prices should go down as quantities increase. In practice, eFoils have gone up in price. If in 2018 they were still around 13,000 EUR for a premium eFoil, now some are around 17,000 EUR.
Why is that? In recent years, everything has become more expensive. Shortages of raw materials, transport costs and supply bottlenecks all contribute to higher prices. At the same time, the quantities of approx. 15,000 eFoils per year worldwide have not increased to the point where costs could be saved (especially since the quantities are now also spread over many more manufacturers….).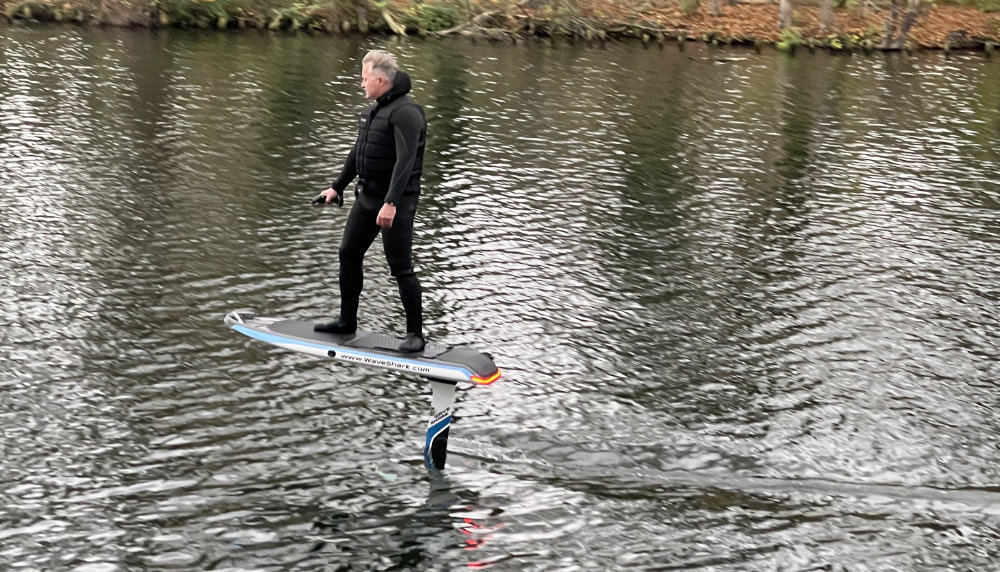 Cheap eFoil suppliers
This article has so far only covered the premium eFoil manufacturers, however, there are of course also cheap eFoil manufacturers where the eFoil price is sometimes as low as a third (!!). I have personally tested most of the boards extensively - as you can see in our E-SURFER Youtube channel on numerous videos.
In the E-SURFER store we sell exactly the products that I would buy myself and can therefore fully recommend. Every year I also look at cheap eFoils, but so far I could not bring myself to include a manufacturer in the portfolio. At the same time, inexpensive eFoils that are eager to gain market share definitely offer interesting profit margins for resellers.
So why can't I bring myself to do it? For one thing, even premium manufacturers have recently started offering cheaper eFoils (as described above), and for another (and this is the main reason) I have well-founded concerns about support.
In the past, cheap eFoils had a lot of problems, as you can read in part in our forum. When it came to buying an eFoil, it was always "you get what you pay for". Broken masts and wings, defective batteries, remote controls, etc. Of course, inexpensive manufacturers that have been in the market for a while have made improvements and the eFoils are getting better. But the problem with support remains, as is repeatedly confirmed to me by dealer colleagues. The latest example is jetboard veteran Onean, which is unfortunately insolvent.
Many brands have already come and gone. If the manufacturer is bankrupt there is neither support nor spare parts. Then the initially cheap eFoil price becomes an expensive disaster. Who wants to buy an eFoil, which is then eventually broken in the corner.
I see it like this: Cheap manufacturers inevitably use cheaper components. This automatically means more support cases. At the same time, the cheaper vendors have smaller profit margins and can therefore invest less in support. Support is expensive. You have to invest in employees and in spare parts.
So less profit, but more costs in support. What does this lead to? This has also been confirmed to me several times by other dealers: the sales staff of the low-cost manufacturers are very busy and respond immediately so that they can sell more.
If you then have a support case, it suddenly becomes very quiet. You have to ask several times, discuss a lot, and then eventually you might get an exchange. But often with long waiting times. And who wants to have a non-functioning eFoil on vacation?
This is what makes a premium manufacturer: he invests in support staff and spare parts. His goal is to get the customer back on the water as quickly as possible. After all, he has a name to lose.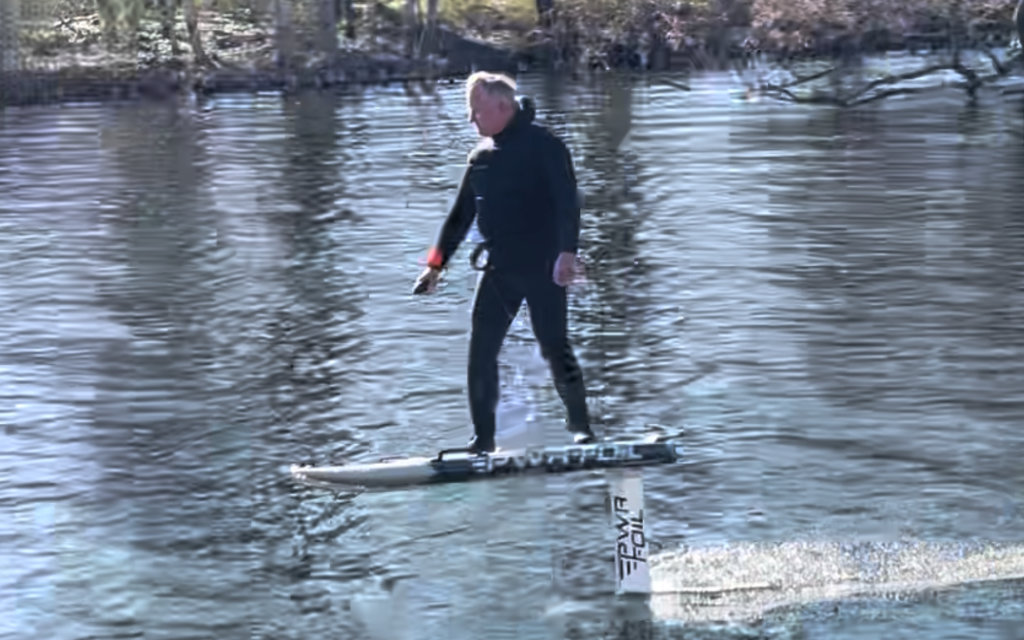 Of course, I will continuously look at and test the cheap eFoils. I would like to have a cheap eFoil on offer. Because who would not want to buy a cheap eFoil 😉
Why? The premium eFoils are not cheap. No question about it. Many customers are worried about making such an investment and then hardly using the eFoil. I learned this after having more and more customers over the last few years who told me the following, "We bought a cheap eFoil last year and now we want a real one".
I found that very interesting, but also understandable. If someone wants to buy an eFoil but has never ridden one, you can put the cheapest eFoil in front of him and he will be thrilled. He doesn't know the differences. Only when someone rides the eFoil regularly and then also has the opportunity to try out another eFoil once, then he will become aware of the sometimes serious differences. For example, range, motor noise and especially the riding behavior (!).
So back to the question why I would like to offer a cheap eFoil, but still could not bring myself to do so: of course I would like to be able to serve the undecided customers who want to buy an eFoil, but are not yet sure whether they will really use the eFoil. I'm pretty sure most do 😉 But my concerns are still support. As already written also confirmed by several dealers. I don't want the discussions with support nor unhappy customers. But I stay on the ball and look at all eFoils …promise;-)
More tips about buying eFoil can be found in our eFoil buying guide.