You hear about Flightboard, Flyboard and Fliteboard, but what are the differences? The E-SURFER team clarifies.
Flightboard
At least the Flightboard is not a water sports device. There are products for tracking airplanes with the name Flightboard or Flight Board. Either as a hardware, online solution or as an app for the smartphone.
Most people searching for the term Flightboard probably mean Fliteboard's eFoil. More on that below.
Flyboard
Flyboard is a water sports device that lets the rider take off thanks to two jets of water. The water pressure is generated either by a jet ski or a special pump. For this purpose, a kind of fire hose is connected to the jet ski via an adapter. On the other side is a small board with two wakeboard bindings.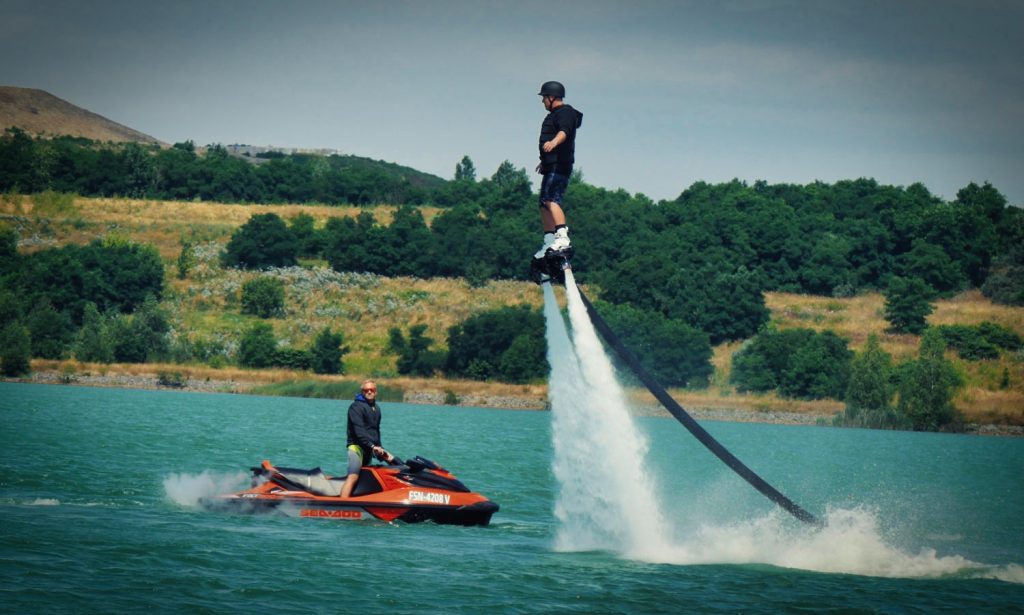 The water pressure is controlled by the Flyboard rider via a remote control in his hand. Alternatively, the trainer controls the thrust of the Flyboard for beginners. Steering is done by shifting weight.
The Flyboard rider can reach speeds of up to 50 km/h while pulling the jet ski behind him on the hose.
The Flyboard tube can be up to 20 meters long, enabling flight altitudes of up to 15 meters. The Flyboard was developed around 2011 by Frenchman Franky Zapata. It was an alternative to the Jetlev Flyer.
Jetlev Flyer
The Jetlev Flyer was developed by Canadian Rymond Li. Unlike the Flyboard, the rider does not stand in a wakeboard binding, but sits in a frame. Steering and acceleration is done by two handles.
The E-SURFER team was able to test both solutions and is in contact with the manufacturers. If you are interested in a Flyboard or Jetlev Flyer, please contact us.
Fliteboard
The Fliteboard is an eFoil and was developed in Australia. It came on the market in 2019 right after the Lift Foils eFoil. A Fliteboard is an electrically powered surfboard with a 60 to 80 cm mast on the bottom where the motor and underwater wings are mounted.
Thanks to the underwater wing, the Fliteboard floats up to 80 cm above the water while riding. Acceleration is by radio remote control and steering by weight shifting. We have explained this in more detail in our Fliteboard eFoil course. We have also created the following training video for the E-SURFER Youtube channel:
A Fliteboard can reach speeds of up to 50 km/h, though the normal cruising speed is around 25 km/h. We assume that many users who search for a Flightboard mean actually this eFoil.
There are now a dozen eFoil providers, which we list in our eFoil comparison. If you want to buy an eFoil, you can always ask us for advice.