Franz Hofmann is co-founder and CEO of Aerofoils GmbH, which develops and markets the Audi e-tron foil. Interview.
We have been in contact with Aerofoils founders Franz Hofmann and Christian Rössler since 2018. In May 2019, the team around the Audi e-tron foil visited us in Berlin. Thereby, the picture here was taken:
Four years later, it was about time for an official interview 😉
What sports have you done so far?
Franz Hofmann: I went from windsurfing to kitesurfing to hydrofoil kiting. After that, paragliding and speedflying fascinated me quite a bit. Since 2017, I've been completely hooked on the freedom that e-foiling gives you.
A sport that I believe will become bigger than kitesurfing, as it is very easy to learn and has a lot of potential for development.
When did the idea to develop an e-foil come up?
Christian Rößler from TU-Munich and I have been building carbon hydrofoils for kitesurfing together since 2014. We had the idea of integrating an electric drive very early on. However, the implementation did not follow until 2017.
As a vehicle developer at AUDI at the time, I was driven by the vision of building an "Audi for the water". Today, the Audi e-tron foil is available for purchase in series production.
What was the first prototype like?
Franz Hofmann: We built the first prototype from our kitefoil at the end of 2017. Audi supported the development of the drive unit through metal 3D printing. This allowed us to shape the drive unit exactly as we thought it would make sense aerodynamically right from the start.
The electronics and battery were still in a case on the board and during our first trials in January 2018, I figuratively jumped into the freezing water. Here's a picture of it:
When did it become a business?
Franz Hofmann: From the very beginning, our goal was not only to implement a concept, but also a series product. When we presented the boards for the first time at Kiel Week 2018 and on Lake Garda, the feedback from customers was clear. That was then the starting signal for the series.
We then tested a lot and created a novelty with the world's first fully integrated jet drive. Our motivation was to offer the best and most sophisticated e-foil on the market.
What were the biggest challenges?
Franz Hofmann: The biggest challenge was certainly starting production in Corona times. Parts were hard to come by and the team had to do a lot of remote work. Our luck was that we have manufacturing in Bavaria and very many parts are produced locally.
In retrospect, I am actually amazed at the dynamism and aplomb with which we ultimately mastered this.
What has been the greatest success so far?
Franz Hofmann: We managed to turn our vision into reality and build an Audi for the water. I am particularly proud that we have put the world's first jet drive for e-foils into series production.
What makes us unique is the uncompromising safety and efficiency.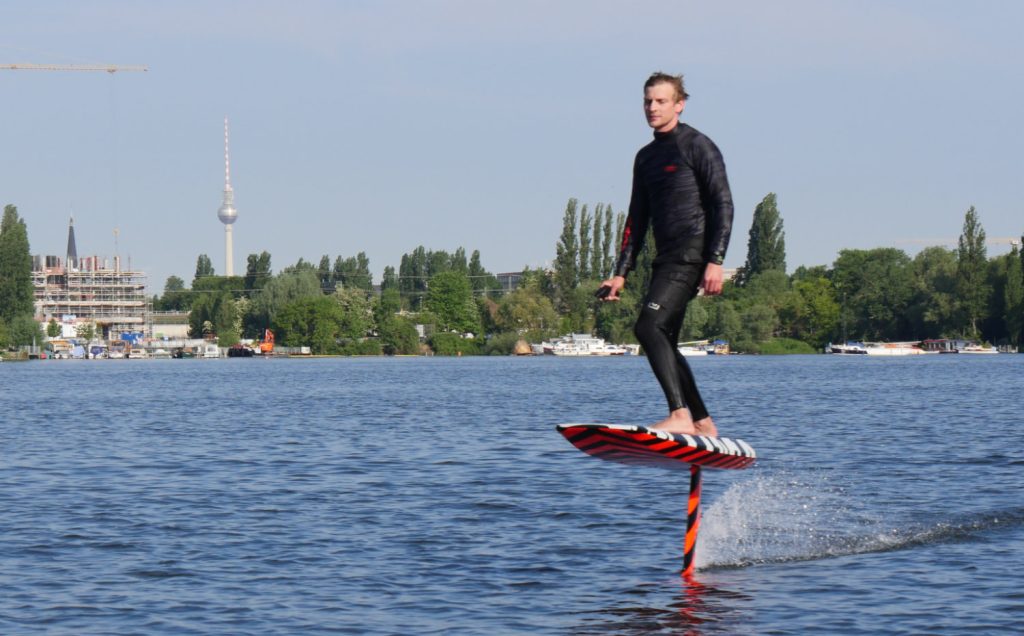 How often do you ride the boards?
In the summer I try to get out on the water 2-3 times a week. We always have something new to test. In the winter I also like to let others do it 🙂
What are your plans for the future?
Franz Hofmann: Our goal is to transfer the knowledge from aviation and automotive to this new sport. In other words, to keep getting better technically, but also to offer super quality and service.
This is where our strengths lie and for this we are currently building up a global team in order to be represented worldwide.
Last words to your fans?
Greetings to all Audi e-tron foil riders, we are looking forward to the summer with you!
You Gonna Fly!
Thank you very much, Franz for your time to answer these questions. For the E-SURFER Youtube channel we have recorded a video in 2022, where ma can see the production in Bayer: