What is the best electric hydrofoil 2018? Well, there are not many out for sale yet, but for our Fliteboard review we had the chance to ride the Fliteboard, Fliteboard Air and Fliteboard Pro for 3 days last months.
As far as we know only Liftfoils and Fliteboard are shipping today. Some others like Cabratec are selling early versions to beta testers.
2019 we hopefully can see more electric hydrofoils from Jetfoiler, Elevate, ELdoRIdo, Hoverstar, and Flying Rodeo available for sale.
After the the DIY E-Foil from Pacificmeister and the Electric Foil from Cabratec the Fliteboard was our 3rd electric hydroidoil we could ride on our own.
And this time we had 4 boards and 6 batteries for 3 days of testing as part of the Jetboard Festival. Test riders include Wayne, Mike, Grant, Andreas, Nuria, Tania and Daniel.
Mike published this video about our Fliteboard review: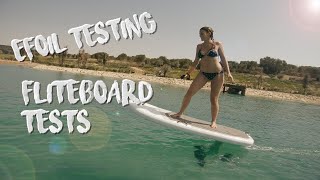 Unfortunately we had no opportunity to test Liftfoils eFoil yet as Puerto Rico is not around the corner and the Liftfoils team has not made it yet to Europe.
They have some nice videos and the product looks very nice, but we heard from different sources who tried both, the Fliteboard and the eFoil, that the Fliteboard is even better. So it might be indeed the best electric hydrofoil 2018.
At least for now it is the best electric hydrofoil 2018 for us and we paid the $$$ to own a Fliteboard in a few weeks.
So why do we think it is the best electric hydrofoil 2018? Check out our Fliteboard review:
Fliteboard offers 3 different boards, 2 different wings and 2 different batteries.
Fliteboard review – boards
The inflatable Fliteboard Air body (18 PSI) has a lot of volume (175 litres) and you can even stand on it at zero speed.
This is very comfortable and safe for beginners and will be the best solution for rental locations and schools. There should be a few Fliteboard centres next year in Europe, US and Australia.
While the volume certainly feels very handsome for beginners, this does not mean it is easier to fly.
It is easier to ride on the surface and will help you to get the first feeling on how a hydrofoil acts (it always wants to go up with the nose as described in our 2 electric hydrofoil articles How to ride an electric hydrofoil and Electric Hydrofoil lesson powered by CabraTec).
However once you start to fly it is actually easier to switch to the Fliteboard.
While it has with 100 litres less volume (you cannot stand up with zero speed) the surface of the board has much less resistance if you hit the water while you go up and down and therefore the speed is more consistent when you change from planning to flying and vice versa.
The Fliteboard offers still enough volume to offer early planning. I had 92 kg and no problems to get it up flying at the speed setting of 8 of 20 (more about virtual gears below).
The Fliteboard Pro has only 70 litres and is for advanced riders who want to ride more aggressive with a very responsive board. Both the Fliteboard and the Pro are built of PVC carbon sandwich.
The good thing about the bodies is that you can exchange them. They are all using the same batteries, remote and propulsion units.
We saw a white Air, a black and a white Fliteboard and a Pro in the wooden design. They all look beautiful, had a good quality and come with a nice board bag as well as cases for the Flite Box, Wings etc.
Fliteboard review – remote control
When we were riding the earlier 2 hydrofoils the biggest challenge was to stand up without changing the speed with the sensitive throttle. Fliteboard introduces virtual gears which is a genius move.
With 2 plus and minus buttons you change the maximum speed at full throttle in 20 steps.
Depending on the battery charge I used gear 3 or 4 as an optimal speed to stand up and 7 to 9 to get up flying. I never went higher than 9 and even Founder and CEO David Trewern mentioned he never went up to 20, so there is plenty of room.
If you would go up to gear 20 you would reach speeds up to 40 km/h or more which is for an hydrofoil too fast in my opinion.
A) A Foil is about cruising and
B) It is one thing to crash with 40 or 50 km/h with a surfboard on the surface, but a completely different thing if you are flying one meter above the surface and do a crash at this speed.
Back to the remote. The remote is not only very nice looking with the high contrast display which offers you information about battery time, speed, range and efficiency (energy per kilometre), but also offers wireless charging and GPS.
The trottle is very comfortable with its 1,000 points. It is waterproof and connected with a small leash to your wrist.
When you want to start you hold the remote right next the sensor on the board. After a peep you have 5 seconds to pull the throttle.
As I mentioned above, I set the gear to 3 or 4, hold the remote to the sensor, gave full trottle and the board accelerated to the perfect speed too lay on the board and go on your knees. After that I went to gear 7 to 8 in order to stand up and surf on the surface.
By going to 9 I had speed enough to start flying and than went back to 8 to enjoy a nice cruise above the water.
This is very easy to learn. Everybody with some surfboard experience will stand up in seconds and fly within minutes.
Flite Box, Flite Cell and Wings
Another thing which is unique about the Fliteboard is that the propulsion, the onboard computer and mast are one unit out of anodised aluminium, which is very easily connected to the board.
You basically have the board, the battery and the Flite Box (where you attach either the Cruiser or Flyer Wings).
The Cruiser wings are good for easy and stable foiling while the Flyer wings are for fast speed and lighter riders.
The IP67 waterproof batteries aka as Flite Cells are coming in 2 versions. The sport version with 30 AH and 8.75 kg and the Explore version with 42 AH and 11.5 kg. The latter one gives you more range.
Fliteboard review – Best electric hydrofoil 2018?
I think it is safe to say that the entire team was stoked by the Fliteboard and so far for us the best electric hydrofoil 2018.
Most of us paid the deposit and all are really looking forward to receive their own Fliteboard in the coming weeks.
The Price for the Fliteboard is around 9,000 EUR plus tax and shipping.
For me personally it is actually not only the best electric hydrofoil 2018 but even the best electric surfboard I have tried so far. Well done David and team.
More information at the Fliteboard website or via Jetboard Limited.