Fliteboard or Lift Foils? I've been testing both eFoils regularly for four years and I've had to change my mind in the meantime.
This Fliteboard or Lift Foils article was written in the first version 2018. Over the years, at least from Fliteboard, new models and innovations kept coming. Year after year. Lift Foils, on the other hand, has introduced little new since 2018 other than new board shapes, software updates (some of which had to be withdrawn because they caused problems), new colors and more wings.
Flite or Lift 2023 Update
In January 2023, the eFoil manufacturers introduced their new 2023 models at the boot show in Dusseldorf, Germany.
On display at the Fliteboard booth were the new Series 3 models, which we already featured in our Flite Series 3 article before the show. The biggest news is a jet drive on the Fliteboards, but also the Ultra L model, that with 22,5 kg lightest eFoil on the market as well as a new 80 cm mast and a new fiberglass version. Fliteboard does not stand still and can show innovations every year.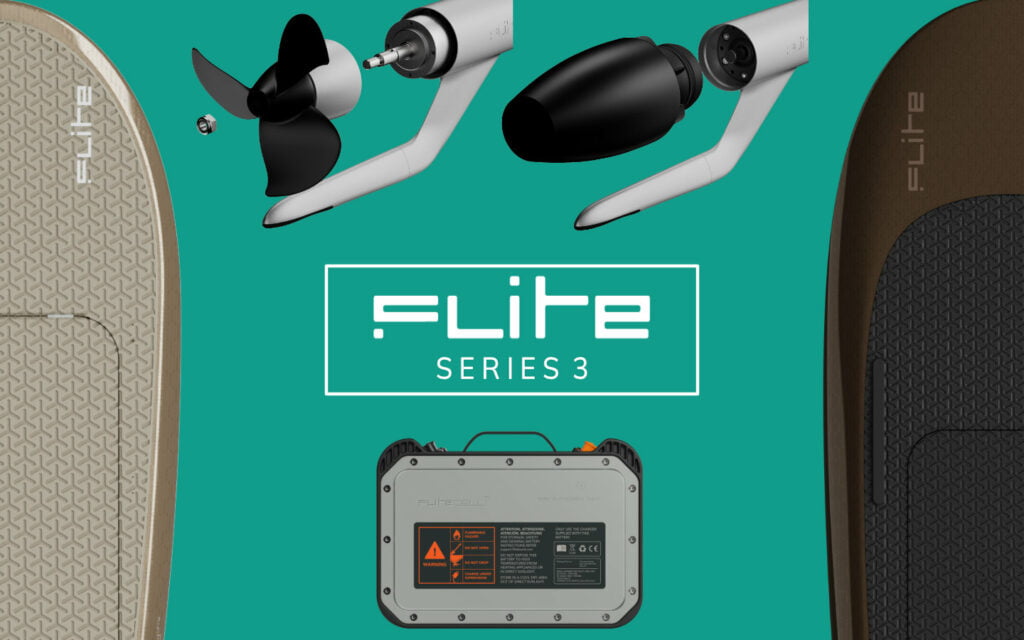 And at Lift Foils? Lift was represented at two booths. But unfortunately there was nothing new to see this year either. When I asked a Lift Foils employee at the show, it was said that a new board was apparently planned for 2024 at the earliest. Meanwhile, Lift CEO Nick Leason published a video at the same time as the boot trade show in which he touted the Lift 3F as new. But the board has already been around for a year. Too bad.
In contrast to Lift, other manufacturers like Audi with the new smaller Competition Board and Awake with the Vinga 3 could come up with news. You can find videos about both the Audi e-tron foil Competition and the Vinga 3 board on our E-Surfer Youtube channel.
For a long time, "Fliteboard or Lift Foils?" was the most discussed question in the eFoil community. Currently, the answer should be clear. The new question for prospective buyers (apart from Pro Wave riders) should be "Fliteboard or Audi?". Our team will be happy to advise you on this topic.
Background
In 2018, I was a Lift Foils representative in Europe before becoming one of the first Lift Foils dealers in Europe in 2019. I have always been a big fan of Nick Leason and his team and more than happy with the first Lift Foils eFoils. I sold several hundred Lift Foils boards and the customers were happy too.
I tried the first Fliteboards in June 2018. CEO David Trewern personally introduced the boards to me and gave tips. In the picture below you can see David in the middle, Mike Z from Jetsurfingnation on the right and me on the left.
Although at that time I also liked the Fliteboards very much, but I preferred the Lift Foils because of the robustness and the quieter motor. So when it came to the question of Fliteboards or Lift Foils, I was in the Lift camp at the time. I remained a loyal Lift Foils dealer until 2021, although I never missed an opportunity to personally test all the Fliteboard models. Every year. And of course I always had the latest Lift Foils boards on hand to test. Whether Fliteboard or Lift Foils is better was always discussed intensively in the forum or the Facebook groups.
Fliteboard or Lift Foils
Although I noticed in 2020 at the latest that Fliteboard could always score with innovations, but I remained faithful to Lift Foils. For a long time I waited for the "next big thing" at Lift after announcements like the Elite Controller. Unfortunately without success. Two years after the announcement, the Elite Controller is still not available. Let alone a really new board. Only a cheaper fiberglass version.
At some point, I was told that the current platform would not allow any major changes. As a result, no significant changes or improvements have been made to the electronics, motor, remote control, or battery to date. The Lift Foils eFoils are effectively at 2018 levels, and a new model would mean there would be no compatibility with previous models.
So what? It's certainly not perfect if Lift Foils owners can no longer use their existing components for a new Lift board, but that's why you shouldn't stand still, right? It's time for innovation. According to insider information, however, there will be no completely new model of Lift Foils in 2023 while Fliteboard may introduce something new again in January 2023.
Fliteboard, on the other hand, has continued to innovate and improve since Series 1 with Series 2 and 2.2. These innovations include:
Safety features
Quieter motor
Optional footstraps
Elimination of the data cable
Batteries with 21700 cells
Titanium cover of the battery
By the way, I have been a Fliteboard dealer since 2022. And this is not because I am not loyal to Nick Leason and the Lift Foils team. I was terminated. Why was I terminated? Because I wanted to include Audi eFoils in the program and Lift Foils terminates all dealers who do not exclusively sell only Lift Foils. Honestly? Sad but true.
Would I rather sell Fliteboard or Lift Foils? I don't have a preference there. In the end, the customer decides. That's why we still offer Lift Foils products.
When it comes to innovation, the point therefore goes to Flite when it comes to the question of Fliteboard or Lift Foils.
Safety
When it comes to safety, Lift Foils really has some catching up to do. While other manufacturers like Fliteboard, Audi and many others disable the motor until the rider "arms" the eFoil via the remote, the Lift Foils motor is always energized when the remote is on. It has happened to me more than once that the Lift trigger bumped my leg (because it is attached to a loop on my wrist) and the propeller went off. But of course, the Lift Foils motor also shuts off if you fall and the remote gets submerged.
Although Lift has tried again and again via software updates to introduce a feature (which works smoothly on Fliteboard) that the propeller can not turn if the angle of the board is not right, but unfortunately this always led to uncontrolled cut offs while riding. Therefore, to this day, this feature does not exist.
There are also big differences in the propeller between Fliteboard and Lift Foils. Lift Foils uses a very high quality aluminum propeller (about 500 EUR) while Fliteboard uses a cheap plastic propeller (about 50 EUR). At first I thought this was a quality feature for Lift Foils.
One thing in advance - whether with Fliteboard or Lift Foils: accidents with propellers are extremely rare and are almost exclusively related to user error. But when they do happen, the propeller makes a big difference. Fliteboard has deliberately chosen a thin plastic propeller. This is because it breaks when it comes into contact with an object (including limbs). Unfortunately, this is not the case with the Lift Foils propeller.
Fliteboard's battery has also been improved again and again. Unlike the Lift Foils battery, it offers a viewing window, which would make a water inlet visible. In addition, Fliteboard has relied on the larger 21,700 cells since 2022 and does not use the capacity completely. This improves safety and longevity. While Lift uses a plastic case for the battery, Flite relies on titanium here.
When it comes to safety, the point therefore goes to Flite when it comes to the question of Fliteboard or Lift Foils.
Remote control
The remote control or "hand controller" of Lift Foils is very robust. Even though there were always problems with the spring of the trigger. However, it is kept very simple. No GPS, no safety features, no data about the ride.
While the Lift remote only shows the battery level, you can read a lot of useful information on the Fliteboard hand controller. This includes:
Speed
Maximum speed
Average speed
Main battery indicator
Remote control battery indicator
Power consumption
Distance traveled
and much more

Fliteboard has already introduced the virtual gears since the first model. These twenty speed levels give beginners in particular a much easier start into this sport. The gears can be changed very easily via the plus and minus buttons, even while riding.
Lift has the so-called Governor Mode. This has since been expanded from three to fifteen gears via a software update. However, switching is not as easy as with Flite. You have to go into the Governor menu. You can see this in the following video from the E-Surfer YouTube channel:
In the video you can also see how big the Lift hand controller is. The Fliteboard remote is even smaller than the Audi remote in the video. Whether large or small is a matter of taste and some prefer a large hand controller, others a small one. However, a large remote control causes more scratches on the board, especially for beginners.
On the subject of hand controllers, the point goes to Flite when it comes to the question of Fliteboard or Lift Foils.
Motor and mast
A special feature of Fliteboards is that the motor, on-board computer and mast are one unit made of anodized aluminum, which can be easily connected to the board.
Lift Foils uses a carbon fiber mast, but has to install a water cooling system. Since the board computer (controller or also ESC or eBox) is also installed separately in the battery compartment, quite a few cables and hoses come to light there. This includes 3 cables for the motor, a water hose, a battery cable and a data cable. So 7 connections that you have to plug in during assembly and disassembly. With. Fliteboard there are only 2 connections: Plus and minus of the battery.
An advantage with Fliteboard is that the motor is mounted at the height of the blades. This not only extends the effective mast height, but also results in smoother running. This is because the thrust is applied precisely to the wing. With Lift Foils, on the other hand, the motor is located about 10 cm above the wings. This not only shortens the effective mast length, but also the thrust is applied offset.
Mind you, the Lift Foils approach allows the wings to be used for foil boards without a motor. For example, for surfing or wingfoiling. But on the one hand, there is only a very small part of eFoilers that use this option and on the other hand, it is questionable whether the various wings make much sense with such different use cases.
Manufacturers like Audi and Fliteboard put the motor at the height of the wings for good reason.
Therefore, when it comes to motor and mast, if the question is Fliteboard or Lift Foils, the point goes to Flite.
Wings
Both manufacturers have a very large selection of wings. Whether cruiser, race or high aspect wings, there is plenty of choice at Fliteboard and at Lift Foils. All wings are made of carbon fiber (carbon fiber) and are flawlessly finished. No matter if Fliteboard or Lift Foils, you can't go wrong here.
When it comes to wings, the question of Fliteboard or Lift Foils is a draw for me.
Processing
If you spend 14 or 15 thousand euros on an eFoil, you should expect top quality. No matter of Fliteboard or Lift Foils. And therefore it is not surprising that both manufacturers use only the best materials. However, it also depends on the workmanship. Here, unfortunately, Lift does not take it so exactly. In the video above you can clearly see the differences. The closures are glued with lubricant. Seams not clean and the deck pad is frayed or even partially detached. This should not be with such an expensive product.
When it comes to processing, the question of Fliteboard or Lift Foils goes to Flite.
Fliteboard or Lift Foils - Conclusion
Lift Foils still has the most robust eFoil on the market. However, if you don't bring any significant innovations to the market for four years, you shouldn't be surprised if your competitors pass you by.
In almost all points, Fliteboard was able to prevail over Lift Foils. It simply pays off to keep investing in research and development and to show improvements every year.
When Lift will finally come up with an improved board and whether it will be able to show real innovations is currently unclear. Therefore: Fliteboard or Lift Foils? At the moment definitely Fliteboard!
What do you think about the topic Fliteboard or Lift Foils? Share it in our forum.