Which new 2023 eFoil models could be seen at the largest European boat show 'boot'? We were there for you.
The boot fair in Dusseldorf takes place annually in the last week of January. After two years of corona break it was finally time again! At this fair, manufacturers traditionally present their new products and this was also the case for the eFoil manufacturers. Which new 2023 eFoil models were shown, you can read and view here at E-Surfer.

E-SURFER tip: You want to buy an eFoil, but are not sure which one is right for you? We are happy to advise you in the store, by email or on the phone. Our eFoil comparison also helps as a first orientation.
Aerofoils / Audi e-tron foil
The Audi eFoil from Aerofoils was launched just a year ago as the first eFoil with jet propulsion (also called Jetfoil). Initially only the 103-liter Adventure Board with standard wings, but then from summer 2022 also the shorter Performance model with 83 liters and various wing variations.
Now the Audi team has shown with the Competition eFoil (under 70 liters volume) another even more aggressive board at the show! It is aimed at very good riders up to 85 kg. I interviewed the two founders Franz and Christian at boot for the E-Surfer Youtube channel. But see for yourself what they have to say about their 2023 eFoil models:
It's nice to see that the Aerofoils team is continuously coming up with innovations. There is no exact launch date for the Audi e-tron foil Competition yet. But you can be sure that we will test it as soon as possible.
Fliteboard series 3
We already presented Fliteboard's 2023 eFoil models in our Fliteboard Series 3 article two days before boot - on the worldwide launch day. Exactly two minutes (!) after the launch 🙂 .
The most important innovation is Fliteboard's jet propulsion. The Fliteboard customer can now choose if he wants one of the two propellers (standard or true glide) or a jet propulsion. The jet drive is the safest solution, but changes the riding behavior. Apart from the safety aspect, it is impossible to say whether one solution is better than the other. It is just a different riding behavior. I tried to explain this in detail in our eFoil comparison.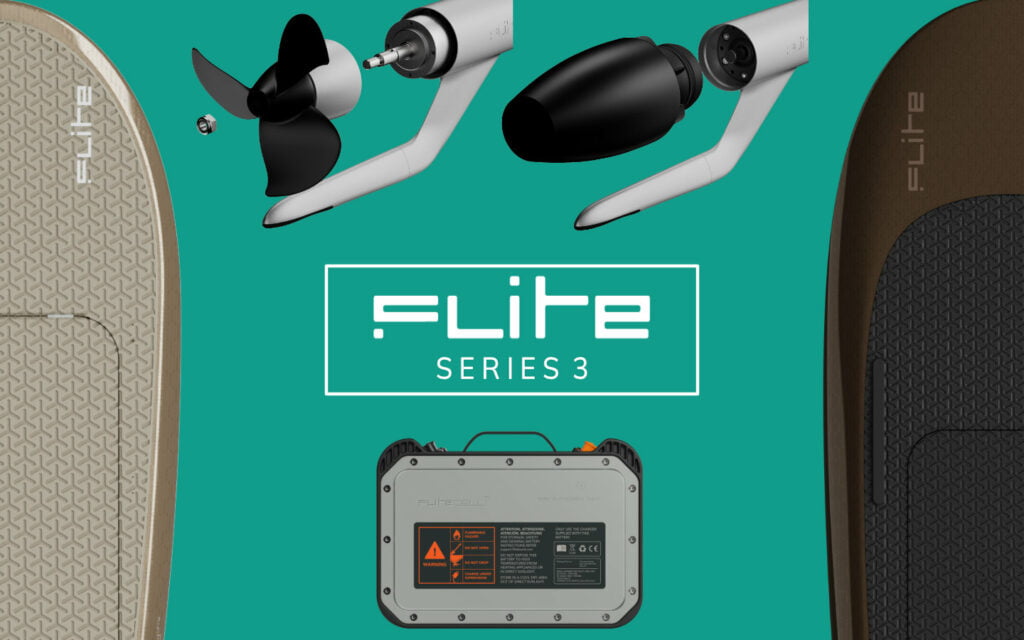 In addition to the jet propulsion, there are other new features on Fliteboard's 2023 eFoil models. These include:
3 material options: Carbon, Carbon Classic and Fiberglass.
The Ultra L board - the lightest eFoil on the market at 22.5 kg
Flitecell Nano (now 3 battery sizes)
Long 80 cm mast (now 3 mast sizes)
New Jet Cruiser wings
New colors
Silicone bow protector
and more

You can read more in our Fliteboard Series 3 article. Fliteboard could once again - as in the last years - score with real innovations.
Scubajet Hybridboard
The "new kid on the block" in terms of eFoils this year was Scubajet. The Austrian manufacturer is known for its diving scooters and SUP motors. Founder Armin Kundigraber introduced us to his hybrid board in the following video:
Awake Vinga 3
Awake Boards now has an S-Series and a 3-Series for both the Rävik 3 and Rävik S jetboards. The Awake Vinga, which had its German premiere last year at our store in Berlin, is now called Vinga S. Accordingly, there is now also a Vinga 3.
We were live at the world premiere of the Awake 2023 eFoil models and recorded this video for our E-Surfer Youtube channel:
So the 'S Series' are the sportier boards for very good riders. And when Awake means good riders, they mean very good riders 😉 The Series 3 has more volume, making it easier for the 'normal' rider. The Vinga is longer, offers more buoyancy, now has hand straps and a double concave in the lower hull. This double concave makes it easier to lift off and land the eFoil. Awake has also introduced new eFoil wings.
Lift Foils
Lift Foils was represented at the show on two booths, but again could not show any new board. Only a few new colors and a cheaper aluminum mast and cheaper propeller. According to a Lift employee a new eFoil will come on the market in 2024 at the earliest. So unfortunately no 2023 eFoil models from Puerto Rico.
Update: On March 1st Lift Foils announced the LIFT4.
Seatfoil
Not an eFoil in the traditional sense, but more of an electric hydrofoil boat is the Seatfoil from the Netherlands. We had the opportunity to do a video interview with sales manager Bob Hensen at boot, in which he demonstrates his "eFoil":
The Seatfoil is aimed at people who are not confident enough to try a classic eFoil. But eFoil is not that difficult. We have taught it to hundreds and hundreds of students in our eFoil schools. But maybe there are people who prefer to try it sitting down.
I'm excited to test ride the Seatfoil in the spring🙂 .
SiFly
I introduced the SiFly 2023 eFoil models back in September 2022 at the 'Cannes Yachting Festival'. I met CEO Alexander at the Côte d'Azur, where we recorded the following video:
The SiFly 2023 eFoil models made a good impression for the low price and were easy to drive. Especially the large 170 liter model I find interesting for riders over 120 kg.
Alexander was able to show me a small innovation at the 'boot': an accessory. It is a second stabilizer (rear wing), which is attached to the mast. This should prevent beginners from rising too high out of the water. As soon as the second stabilizer comes out of the water, there should be a kickback and the eFoil sinks a little. Sounds interesting for schools and I must definitely test.
Really nice to see that there are always brand new ideas!
Waydoo, Hydroflyer, PWRfoil & Mo-Jet
Waydoo was also represented with a booth at boot. Although there are always small improvements such like the folding propeller recently, there were not really new 2023 eFoil models.
Also Hydroflyer was exhibiting their eFoil with handle at the same booth like Waydoo as they use the same European distributor. We had just tested the Hydroflyer end of last year together with Mike from Jetsurfingnation. He published following video about our test:
It was a similar story with PWRfoil from France. We already had the opportunity to test their eFoils 2022 at our shop in Berlin. The following video was made a few months ago:
Mo-Jet had announced an eFoil module for the convertible Mo-Jet board some time ago. They did have a booth at boot, but unfortunately the eFoil module was not on display nor was there a prototype behind the scenes.
Do you have any questions or feedback about the 2023 eFoil models? Then let us know in the forum.