For our WaveShark Jetboard review the European WaveShark team came to visit us in Berlin. We interviewed General Manager Richard Ye and tested the jet board in cold November.
WaveShark is a newcomer and brings its first jetboard to the market. By the way, also a WaveShark eFoil. However, the parent company Powervision has been known for its now waterproof drones, including underwater drones, for several years. This experience has been incorporated into the development of the jetboard.
The jetboard, which we were allowed to test at the end of November 2021 in the e-surfer test center in Berlin, is the only WaveShark test jetboard in Europe so far. Surprisingly, we learned that Richard himself has not tried it yet. Nevertheless, he explained the board to us in the following video:
Video chapter:
0:00 WakeShark Intro
0:47 Carbon fiber hull
1:12 Battery
1:47 Technical data
2:17 Modular system and lower hull
2:59 Price and launch procedure
3:51 Test ride and review

In general, the WaveShark team doesn't seem to have a lot of experience in jet surfing or eFoiling. They rather rely on the know-how in electronics and waterproof components known from drones. Nevertheless, the board is not a copy, but they have tried to bring in their own ideas.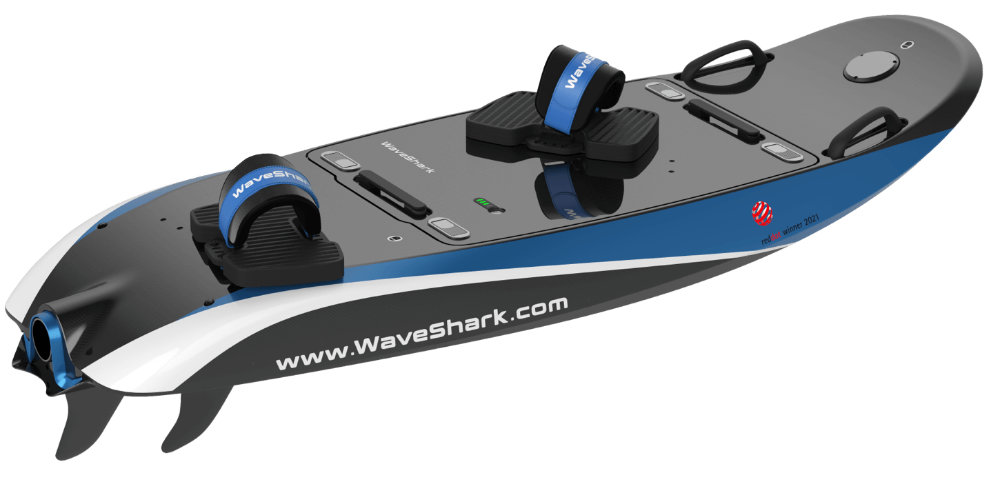 The biggest weakness of electric jetboards in general is the limited range. This has been tried to eliminate here by a huge battery. Thus, the exceptionally large battery comes with a weight of 30 kg. Together with the 20 kg heavy carbon fiber board, you are thus at a 50 kg.
The high weight is a bit uncomfortable on land, however, it similar to the MagicSurf is very stable in the water and also cuts through rough waves. And unlike the MagicSurf, the footstraps make it quite agile. My WaveShark Jetboard review ride was not lacking in fun.
From the shape it resembles the Jetsurf Electric at first glance, but it is much larger and thus has more buoyancy. It is therefore quite easy to ride even for heavy riders. The acceleration and the top speed of 60 km/h are remarkable. This is probably thanks to the strong battery and the high volume.
However, with a power of 12.5 kW, the good piece requires a driver's license in Germany, as the limit is 11 kW. The Jet Board is equipped with a GPS system, which is supposed to calculate when you should head back. You are warned by vibrations of the Bluetooth remote control.
The display of the remote control was pleasantly bright and offers a lot of information such as speed, battery level (remote and battery), as well as the set mode. There are 3 modes for beginners, advanced and professionals. However, I found the font very small and could only read the speed without reading glasses. The remote can be attached to the front of the board with a rope. This makes it easier to turn.
My top speed in mode 2 was 48 km/h and you felt there was still room to go up. From there I consider the 60 km/h realistic. At 5 degrees celsius outside temperature, however, I was satisfied with it 😉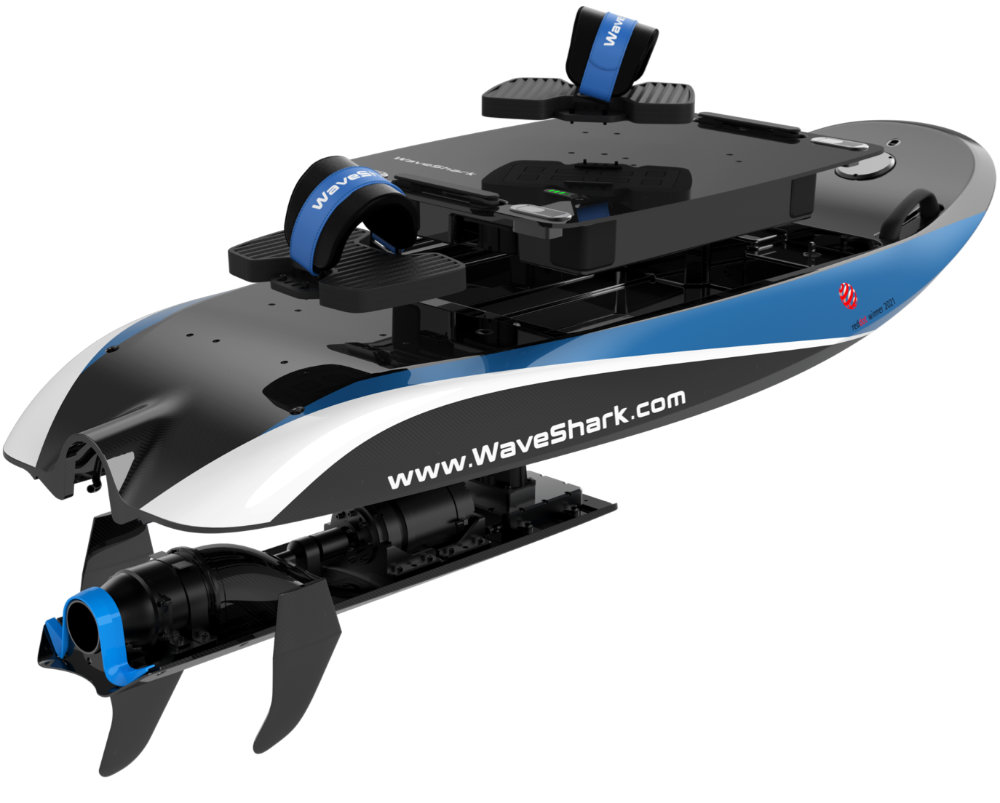 Like almost all jetboard manufacturers WaveShark follows a modular system, which makes support easier. In case of service the complete board does not have to be sent in.
Technical data:
Carbon fiber hull with 20 kg weight
Battery weight 30 kg
Battery power: 3.6 kWh
Motor power: 12,5 kW
Maximum speed 60 km/h
Maximum driving time 45-50 minutes
GPS system
Bluetooth remote control with color display

According to WaveShark, the foot straps will be revised in the short term. The velcro straps were already frayed and the foot pad is too hard. Since I wore shoes during my WaveShark Jetboard test in cold November, this was not a problem. With barefoot, however, you want more comfort.
The board bag currently comes with street wheels. Here, however, another version with large beach tires should be added soon. Also the backpack for the heavy battery comes with wheels.
More info as well as more questions and answers can be found in our forum.