The Lift eFoil, also called Lift3, was designed in 2018 to provide an easy, exciting experience for users of all experience levels.
Our story
E-Surfer has a long partnership with the Puerto Rico-based company. In 2019, we were the first representative for the Lift eFoil in Europe. Later, then the largest dealer in this region.
Unfortunately, in 2022 Lift Foils decided to terminate all dealers who do not want to offer only Lift Foils eFoils. This also included e-Surfer.
Therefore, we are now focusing on the eFoils from Audi - Aerofoils and Fliteboard. In the meantime, we are very happy with this change, even if the disappointment towards Lift Foils business conduct was big at the beginning.
Buy Lift eFoil
Even though we not anymore an authorized dealer we keep Lift Foils in our eFoil Shop, We still have boards, wings and accessories in stock to supply our existing customers.
In addition, the Lift Boards are displayed in our showroom right next to Audi and Fliteboard, so you can compare the boards directly. Test rides are also possible with the boards.
Lift eFoil description
The Lift E-Foil allows riders of all levels to experience flight over almost any body of water at up to 48 km/h. No waves, wind or towing is required. The eFoil uses a state of the art lithium ion battery, a hydrodynamic, torpedo designed, electric propulsion unit along with custom electronics. It also features a high performance carbon fiber board and hydrofoil to give users the ultimate smooth and responsive riding experience.
We recommend eFoil usage for riders ages 16+ and less than 130 kg, and have found that users of any adult age and experience have been able to have fun and rapidly learn on the eFoil.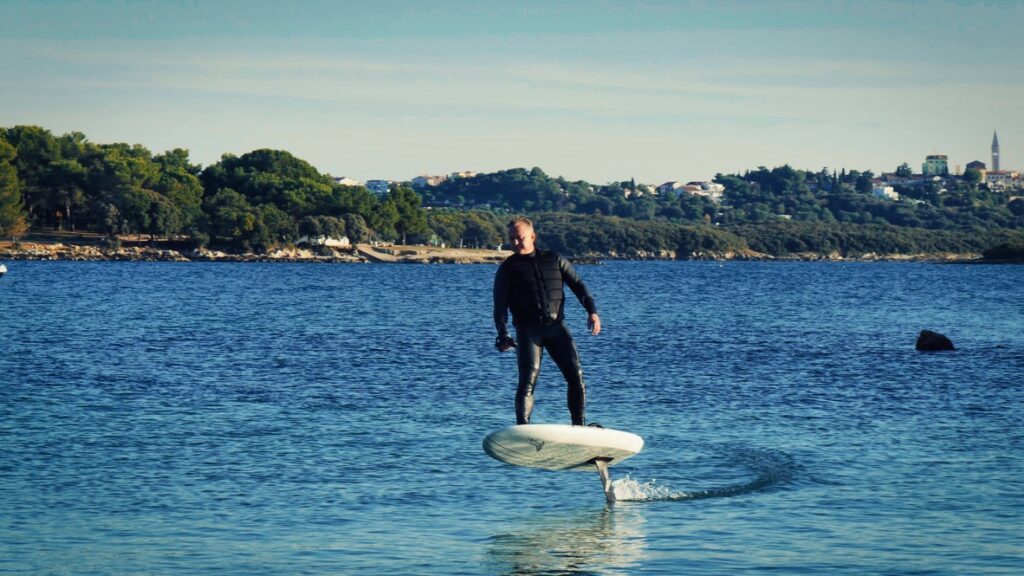 Lift eFoil Lithium Ion Batteries
Lift Foils worked with top engineers in the USA to create a custom lithium battery built for rugged marine environments. This battery offers performance, convenience, and the most comprehensive safety components on the market. It lasts up to an hour depending on rider weight/speed and is enclosed in a rugged, IP68 waterproof housing that allows it to be transported and installed safely. The eFoil battery is also easily replaceable and rechargeable with charge times less than two and a half hours.
Battery Features
Battery Management System (BMS)Our battery is equipped with a highly sophisticated BMS that protects against overcharging, overcurrent, excess voltage, deep discharge, short-circuit, and overheating to say the least. All safety related components are redundant and our battery has the ability to automatically disconnect itself from the system when needed, constantly protecting the board and user from any undesirable situations.
Waterproof Our battery is fully submersible to IP68 standards to keep internal components protected from moisture and corrosion.
High Energy Density Our battery lasts approximately one hour.
Easily Interchangeable and Rechargeable Recharge time is 2.5 hours.
Weight30 lbs or 14 kg.
Both Lift Foils and the Electric Hydrofoil Shop from E-Surfer care about battery safety.
Lift eFoil Hand Controller
The Lift eFoil hand controller gives the rider complete control in his or her hand for an effortless, smooth ride. By pressing the throttle, riders can go up to 40 km/h or 25 miles per hour and automatically shut off the engine just by releasing the lever. Key information such as speed settings, alerts, and battery charge percentages are displayed on the screen. The controller is waterproof, floats, and comes with a strap to keep it secured to the rider's hand.
Controller Features
Wireless Bluetooth TechEvery time the rider presses the lever, the controller gives a wireless signal to the board, and the motor then reacts instantaneously to adjust speed without interference.
Magnetic Actuator The lever uses magnets and a hall effect sensor to control throttle actuation, leaving the internal components sealed and completely waterproof.
SafetyThe hand controller commands the motor, which will automatically shut off if the lever is released, if the hand controller is submerged in water, or the hand controller is greater than 10 feet from the eFoil.
Display Screen – Speed settings, alerts, and battery charge percentages are displayed on the screen.
Automatic Power RegulationIn the event of a low battery, the controller will automatically throttle the rider back to a lower power setting as a signal to get back to shore safely.
For the E-SURFER Youtube channel we produced the following video about the Lift eFoil hand controller:
Lift eFoil Motor & Propellers
The motor was designed to be an extension of the rider. Unlike gas engines, electric motors have no lag and deliver maximum torque on command. This instant response allows riders to have complete control over speed – there is no delay from rider input to motor output.
Motor Features
Computer ControlThe motor leverages the eFoil's built in computer, which is programmed to set the perfect accelerations, decelerations, and speed outlets so rider gets the most stability and control on the water.
SilentHigh energy in a compact space allows the board to travel swiftly through the water without the irritant noise created by gas engines.
Submersible in WaterEvery component is double sealed against the elements and uses high-end corrosion resistant materials.
Hydrodynamic Torpedo DesignPierces through the water smoothly with minimal drag.
Ducted PropellerOur ducted propeller offers the best thrust to energy ratio over a variety of speeds. This helps conserve battery power and maximizes thrust for an ideal riding experience.
Board & Foil
Lift Foils goal over their decade in the market has always been to create the best high performance foils, period. The knowledge gained from designing several generations of foils through refinement and innovation has led to the new smooth, easy to use hydrofoil featured in the Lift eFoil. It strikes the perfect balance between stability and maneuverability so riders of all levels can lean, carve, and edge with ease. The foil is what provides the unique feeling that combines the sensations of surfing and flying all in one.
Depending on the rider's weight and performance preference, we offer multiple boards to choose from: Larger boards offer an easier ride, especially for larger or less experienced riders, and the smaller boards are easier to manoeuvre for more experienced riders who want the best performance.
Board Features
Full Carbon ConstructionBoth the board and foil are built from premium carbon fiber.
Waterproof HatchThe hatch houses all of the electronics including the battery and motor controller. It's easily opened to turn the eFoil on and replace the battery.
Interchangeable WingsLift specializes in offering different rides. With the eFoil the rider can swap out different wing designs for different flying sensations.
Simple BreakdownThe eFoil is easily assembled and taken apart. It breaks down into three separate components: board, motor/mast and wings. Each component comes with a bag/carrying case for proper storage and transportation
Board, Foil and Motor Weight30 lbs or 14 kg.
The Lift 3 comes with following items:
eFoil board with electronics
foil unit with motor
wing
mast
hand-controller
removable/rechargeable battery for the eFoil
battery charger
cleaning kit
toolkit
manual
quick start guide
cases for safe transport of all included items