I have been looking for an electric Jetski for years and have been able to test drive one. But when do they come on the market?
As a dealer of eFoils and jetboards, I would love to have an electric Jetski in the field. My hope was in companies like Taiga Motors from Canada or Narke from Hungary. Qusai the Teslas of jet skis.
But unfortunately the models are postponed year after year. I don't think you can buy an electric jetski in 2023. Too bad.
Over the last 3 years I had written several articles about e-jetskis. These I now summarize in the article and do not give up hope that there will soon be an electric jetski to buy. If that is so, you will find out of course here.
Until then, here are the previous electric Jetski articles:
E-Jet-Ski Narke GT 95 2021
Narke introduced its first E-Jet-Ski, the GT45, back in 2018 and later delivered it to beta testers. For 2021, there is now the new GT 95 electric Jetski model.
Narke calls its E-Jet-Ski the world's most elegant personal watercraft that is 100% electrically powered. Its above-average dimensions in its class and put it well above the industry standard. Indeed, the electric jet ski looks quite futuristic. And it's big.
It's the perfect water toy for anyone who appreciates design, high-tech solutions and luxury - and cares about the planet in style, according to the manufacturer. The ambitious Narke team has been working tirelessly since 2014 to make the Electrojet the perfect alternative to traditional gasoline-powered jet skis.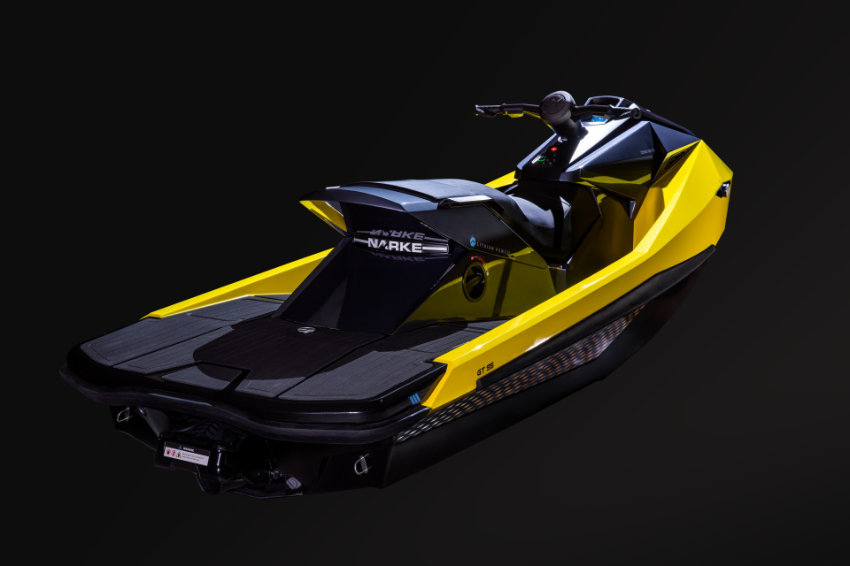 The first electric Jetski model, the Narke GT45, was launched in 2018 at the Cannes Yachting Festival in France and generated a lot of interest around the world. According to Narke, the first generation models sold out almost immediately.
General trends in the electric motor sector, as well as feedback from Narke owners, have helped fine-tune the existing model. Narke engineers took the Narke GT 95 to a higher level by increasing power by 50% and range by 20%. All this was achieved at low voltage (120V), a safer solution compared to 400V, by further developing the motor, optimizing the hull and installing new generation high performance battery cells.
The GT95 offers everything users can expect from a 21st century 3-seat electric Jetski: It's fun, safe and powerful while protecting the waters for future generations. Dubbed "Cyberjet" by its fans, it has received a more powerful engine and an optimized hull, while retaining one of its most outstanding attributes, its eye-catching and unique design.
Péter Bíró, jet ski world champion and 2-time European champion, has also tested the GT45 electric Jetski. In addition to the environmental friendliness, the champion has highlighted, among other things, the very good speed, good maneuverability and quiet engine of the Narke - features that can clearly mean the sustainable future in the jet ski market.
In terms of technical parameters, the Narke GT95 E-Jet ski has 50% more power compared to the previous model, reaching 95 hp, has a 20% increased range, up to 50 km thanks to the new Petestep® hull, resulting in a more comfortable and energy-efficient ride. The Narke GT95 E-Jet ski offers a smoother and quieter riding experience thanks to a unique deflection technology that also reduces friction and therefore energy consumption, and increases stability even at high speeds.
The Narke GT95 electric Jetski has a top speed of over 70km/h, continuously monitors over 100 operating parameters, and applies "SAFE" mode when necessary to maintain driveability. The Narke GT95 will be unveiled at the Top Marques show in Monaco in the summer of 2021. For those looking for futuristic design, high-tech solutions and luxury, and who are not afraid to feel unique and special, the Electrojet can be reserved via www.narke.com or at one of the dealer partners.
Taiga Orca electric PWC
The Taiga Orca is an electric PWC concept from Canada. The electric Jetski is developed by the company Taiga Motors which already developed an e-snowmobile.
Yes, Taiga's first electric vehicle was an electric snowmobile. This is actually surprising, since a snowmobile is usually operated in freezing temperatures and lithium ion batteries do not work well in freezing conditions. On the other hand, a good challenge to design an electric jet ski in the next step.The Taiga Orca is only available for pre-order so far. For 1,000 USD you can reserve the e-jet ski from Canada. The final price is said to start at $24,000 USD plus tax and shipping in the carbon fiber version. However, there is also supposed to be an entry-level model starting at 15,000 USD with a 100 USD down payment. The company is still vague about an exact delivery date. It shall be in summer 2021. Pre-orders should be taken with a grain of salt, as we have seen many disappointed customers with Jetboards and eFoils. Some of them who have paid via Kickstarter or to the manufacturer directly either received their board up to three years late or never at all. No electric Jetski manufacturer should take money before a delivery date is set. Not even if it is a futuristic electric PWC.
The Taiga Orca electric Jetski promises a top speed of 104 km/h and a range of up to 60 km. At the same time, they talk about up to 2 hours of riding time. So that would correspond to an average speed of 30 km/h. So rather a gentle cruising 😉
The electric jet ski has GPS, LTE, Wifi and Bluetooth connections. This can be used, for example, to upload software updates and configure various parameters via the app. The powertrains are said to be maintenance-free for three years. Taiga wants to offer 2 models:
Taiga Orca Sport
The Sport model reaches a top speed of 90 km/h with 120 hp. The 20 kWh battery is said to offer a range of 50 km. With a length of 3 meters, a width of 1.2 meters and a height of 1 meter, the Sport model can accommodate 2 adults. Charging time is said to be 3 hours with the 6.6 kW power supply. However, there is also talk of a fast-charge mode that is supposed to charge to 80 percent in 20 minutes. It is not clear whether a separate power supply is needed for this.
A 7-inch high definition display informs the rider aboutr all the important data while driving. There's a 57-liter waterproof storage compartment and an optional fish finder. The Taiga Sport is available in three colors: white, blue and black.
Performance Model
The Performance eJetski from Taiga Motors hits a top speed of 104 km/h with 180 hp. A 25 kWh battery is supposed to offer a range of 60 km. Although the dimensions are identical to those of the Sport Model, they are talking about 2-3 person loading capacity here. For the Performance Model there is also an optional tow package for wakeboarders or water skiers. All other specs the same as the Sport model.
The world's fastest electric jetski?
The world's fastest electric Jetski was a crowdfunding project in late 2019 from England. The goal was a world speed record for electric powered jet-skis.
Jamie Marlie from the United Kingdoms of England wanted to fund an electric jet-ski via the crowdfunding platform crowdfunder.co.uk at the end of 2019. It was planned to be the world's fastest electric jet ski. Jamie had never ridden a personal watercraft himself, but had plenty of experience with electric boat propulsions.
In 2018, he had outfitted a six-meter rigid-hull inflatable boat with an electric drive. Now he wanted to get to work on an e-jetski. And not just any electric jet ski, but it was to be the world's fastest electric jet ski. Admittedly, there were hardly any other electric jet skis at that time. And if there were, then only prototypes. Therefore, the whole thing sounded like a slogan to find more bakers for his project.
Jamie's goal was also to eliminate noise and exhaust fumes to make an environmentally friendly jet ski a reality. Just as several others had tried unsuccessfully before. For the prototype, he wanted to use lithium ion batteries, electric motors and chargers from existing hybrid passenger cars. A Yamaha Waverunner XLT 1200 was to serve as the test PWC.
But Jamie wanted more. He wanted it to be 100% environmentally friendly. So he planned to charge the battery with a solar panel on his roof and at the same time use the Jetski battery as energy storage in his house when the E-Jetski was not in use. Actually quite a good idea.
Unfortunately, it all went nowhere. In the end, Jamie couldn't find a single supporter for his project. Although he had offered various bakers incentives ranging from 100 English Pounds for a test ride to 18,000 pounds for the eJetski, no one took him up on it. In the end, the crowdfunding platform said "Unfortunately this project was not successful."
Unfortunately not the first and probably not the last electric Jetski project that did not or will not make it to the market. But hope is the last thing to die 😉.
SeaDoo electric concept
A SeaDoo electric concept was already presented in 2019. The SeaDoo electric Jetski was shown alongside other power-sports electric vehicles from BRP.
Canadian manufacturer Bombardier Recreational Products Inc. (BRP) is considered the market leader in personal watercraft (also known as jet skis). While other industry giants like Yamaha and Kawasaki have kept a low profile when it comes to electric jet skis, BRP's electric SeaDoo prototype was the first concept from a brand-name manufacturer. So far, there have only been young start ups with the goal of bringing an ePWC to market.
In addition to the SeaDoo electric, BRP also presented various other electric vehicles at a trade show. Among them were the electric version of the Riker (a trike) and the Ski-Doo (snowmobile), as well as electric go-karts and scooters. The e-SeaDoo is based on the design of the gasoline-powered GTI models. You can see the prototypes in the official company video:
Unfortunately, almost no technical details about the electric Sea-Doo have been revealed. There are not even videos where you can see the electric jet ski riding. The whole thing seems to be more of an image campaign, as seen in early years in the automotive industry. So will young startups like Taiga or Narke become the new Teslas of water sports? Or is it really just too early for this trend?
A StartUp will always take more risk than a publicly traded company like BRP, so I expect companies like Taiga or Narke to be the first to bring e-jet skis to market. But maybe the brand manufacturers are learning from the automotive industry and don't want to breed new competitors.
The fact is that an electric SeaDoo from a well known manufacturer like BRP would really shake up the market. After all, gasoline-powered jetskis are being banned because of the noise and exhaust fumes from more and more waters. A new start for the jet ski market would be urgently needed.
WaveFlyer from Australia
The WaveFlyer is an electric hydrofoil Jetski developed in Australia. A new concept for a hydrofoil powered personal watercraft.
We see more and more prototypes for electric powered PWC, but this concept is new. The hydrofoil approach is already revolutionizing the electric surfboard market as the sales numbers of eFoils are overtaking the numbers of Jetboards. We can certainly testify that it is an awesome experience to fly above water with an electric hydrofoil. But the eFoils are very light and small and you have a lot of freedom to carve around. An electric Jetski however is pretty heavy and might not be as maneuverable.
There are already few electric boats with hydrofoils out and the main reason seems to be so reduce energy consumption, because of less drag from the water surface. This is what made the eFoils successful. But even with the eFoil it is not possible to make as aggressive turns as with a Jet Board. We saw some e-boats with hydrofoil live and did even ride one. Same thing here and we believe it must be also the same with an electric hydrofoil Jetski such as the WaveFlyer from Australia. Look at the following video:
The WaveFlyer electric PWC is developed by Electro Nautic which is an subsidiary of Electro Aero. These guys develop electric motors for small planes and paraglider. Both companies are based out of Perth in Western Australia. The WaveFlyer is using swappable and upgradable lithium battery packs and is controlled by a joystick and steering wheel. A touch screen display shows speed and battery charge and lets make you changes in the settings.
It seems that the electric Jetski version is just one of the concepts as the website shows different small boats as well. These don't really look very comfortable in our opinion. Please have a look at the following picture.
It looks like Electro Nautic wants to license their patent pending auto-stabilizing electric foils to other vessel manufacturers. The computer based auto-stabilizing is another hin in our opinion that it will probably not good for aggressive turns.
Nikola WAV ePWC from Arizona
The Nikola WAV ePWC is developed by Nikola Motors Corp.from Phoenix, Arizona. The manufacturer is known for its electric trucks.
The design of the Nikola WAV (pronounced "wave") electric Jetski two-seater was inspired by so-called superbikes, high-performance racing motorcycles for deep pockets. Everything looks futuristic and luxurious. There's the 12-inch 4K display, for example, which is designed to keep riders up to date with all the important technical data. Nikola Motors company president Trevor Milton calls the project the "future of personal watercraft."
This project was accelerated by the purchase of the company Free Form Factory, which had previously presented the Gratis X1 electric stand-up Jetski. Nikola Motors has quite a lot of experience with electric vehicles, because their main business is the electric trucks TRE and TWO. The electric trucks have power ratings of up to 735 kW or 1,000 hp. That's a lot. In addition to trucks, the team deals with recreational vehicles. These include the Badger pickup with 960 hp, the NZT off-road buggy with 590 hp and the RECKLESS military vehicle, also with 590 hp. All vehicles are powered completely electrically.
So there should be no lack of experience with high-performance electric motors and battery technology. However, there are still a few hurdles to overcome with a watercraft. All components must be seawater resistant.
Nikola WAV ePWC
As is often the case, only prototypes of this electric Jetski can be seen so far. The manufacturer is also keeping a low profile with technical data. So far, you can only see image videos in which the ePWC is not even driven. Neither the power of the motor nor the range is specified so far. Instead, the focus is on features like an infotainment system or storage compartments.
At the very least, the company should have enough experience and also budget to bring an electric personal watercraft to market. When that will be, however, is hard to say.
Narke ElectroJet from Hungary
Narke ElectroJet - There are a few electric Jetski concepts on the web, but none of them has made it to production yet. the batteries are still not capable enough.
It is summer 2018 as we write this article and the Narke ElectroJet is supposed to change this in the near future. An Hungarian development team of boat designers and shipbuilders is now showing their prototype. The Narke ElectroJet is currently tested in Hungary and is supposed to be very silent. Not only due to the electric propulsion, but also due its special shape.
The electric Jetski from Hungary is made out of Cabon Fiber and has a water-cooled engine with 45 kW or 61 horsepower. 45 kW is quite a lot if you compare this to the electric surfboards where the strongest jet-boards have about 16 kW. Compared to petrol powere jet-ski this is however not a lot. Some petrol PWC have 170 kW (230 horsepower) or even more.
It promises a speed of 55 km/h or 34 mph and a operating time of 1.5 hours at normal use, which probably means not at full speed. But who would ride with 55 km/h for 1.5 hours anyways. Well, the petrol powered personal watercraft smake 120 km/h or more. On the other hand they are noisy and they stink 😉
The battery is charging to 80% in just 2 hours and is replaceable in a few minutes. We are wondering what a second battery would cost. The smaller batteries for electric surfboards are already a few thousand EUR.
It has a nice customizable smart display which fits very well to the overall futuristic design and gives a lot of useful information such like speed, temperature, time, date, distance and water temperature. No pricing information is released yet, but we will keep you updated.
Given that the electric jetboard Curf is up to 22,000 EUR with 16 kW power it will be highly likely not inexpensive. Batteries are still expensive.
Mass production is planned already for 2018 in Balatonvilág, Hungary. We have seen lots of these announcements in the electric surfboard industry, but most of the jetboards are usually delayed for a year or even more. It will be interesting to see when the electric jetski will be available for sale and for which price.
Stand-up electric Jetski Gratis X1
The first electric stand-up personal watercraft called Gratis X1 was announced 2017 from Free Form Factory Inc. based out Sacramento in California.
A stand-up personal watercraft is lighter and more sporty compared to standard PWCs. As the name suggests you are not sitting, but standing on the jet-ski. This allows more radical maneuvers including backflips. Free Form factory is now announcing the first electric stand-up personal watercraft called Gratis X1.
The Gratis X1 claimed a runtime of 45 minutes, but also a larger battery pack for 1 hour riding time. They even took pre-orders although they never are able to launch the product. The price was supposed to be 17,990 USD plus VAT and shipping. You can find their image video on Youtube:
Founder Jordan Darlin was into motocross, snowmobiles and of course jet-skis before he founded Free Form Inc. in 2014. His idea was to bring a durable, local emission free and silent PWC. He decided to use a proprietary polymer material instead of fiberglass, which he thought would be lighter and more durable. One of his quotes was:
The electric JetskiGratis X1 is changing the future of its industry by producing the leading noise free, high-performance personal watercraft that allows riders of all levels to hit the open water without restrictions imposed on fuel-powered watercraft.

Founder Jordan Darlin
The company website ridefreeform.com is not live anymore, but their Facebook page still exists. In November 2018 it was announced that Nikola Powersports, a manufacturer of different electric vehicles acquired Free Form Factory. They want to bring the electric stand-up personal watercraft to the market under their own brand.
Free Form did try to raise another 3.5 million USD in May 2017 in order to finance the development of the Gratis X1 after they had already raised 500,000 USD earlier. After that didn't work out, they got acquired.
J-Force eJet from Germany
The J-Force eJet was introduced at the Interboot show in Germany in 2015 as one of the first electric Jetski concepts worldwide.
In 2014 the German company J-Force GmbH from Stuttgart was founded to develop the J-Force eJet as well as eJetboards. The J-Force eJet promised a 320 horsepower electric engine and a runtime of up to 2 hours. Such a strong motor would need a lot of battery power, but the company claimed that this battery would charge in just 2 hours.
The total weight of this electric personal watercraft was 350 kg. A top speed was not mentioned as it was still an early prototype. See the following video:
J-Force's electric jet-board called eBoard was supposed to make a top speed of 55 km/h. The company was arguing it would be the fastest Jetboard at this time. Of course 2015 was early times for electric surfboards. The only companies around at this time were Waterwolf, Onean, Radinn and the first Lampuga. The eBoard had a unique feature which sounded kind of interesting. Instead of using a remote control it had a smart glove. The so called eFlex control had even a display.
Especially the features of the J-Force eJet sounded a bit unreal. A 320 horsepower electric Jetski which charges in just 2 hours seemed to impossible at this time. The company website was originally j-force.de, but it does not exist anymore. The products made it never to market unfortunately.
This is too bad as the German engineers had some very innovative ideas. We guess 2015 was just too early given the early days of high energy lithium ion batteries. Especially for products such like the eJet. You just need a lot of power for an electric PWC and everything has to be perfectly sealed for the use in salt water.
Electric Seadoo GT E-Waverunner
The first electric Jetski Seadoo GT Electric Waverunner was built by the Dutch company Bellmarine. The custom electric jet skis are for an 80 meter super yacht.
Someone with deep pockets did want an electric Jetski for his luxury yacht. So already in 2012 Bellmarine Technology, an expert in electric propulsions for vessels did build one for him. Actually they built two of them. Each one with a 45 kW electric jet propulsion and a 120V 150 Ah Lithium Ion Polymer battery.
This is a lot of power for an electric Jetski and they had to use eight high energy battery modules with a custom battery management (BMS) to serve it. In order to charge them the 9kW charger unit is detected by the Electric Seadoo, so that the PWC controls the charging process. The charging shall take about 2.5 hours.
The average runtime for these Electric Seadoo GT Electric Waverunner is supposed to be 1.5 hours under "normal use". At full speed the range is 30 minutes. Here is a video with the electric PWC in action:
Electric Jetski Waverunner specs:
The custom builds are based on an Seadoo GTE215 (model 2012) with following specifications:
AC- Liquid cooled 45 kW 120Volt motor
AC- Liquid cooled 144 Volt 500 Amp controller
High Performance Lithium-Polymer batteries
120 Volt 160Ah (20 kWh) forced air cooling
special designed BMS (Battery Management System)
Battery Charger 120 Volt 60 Ah
It also includes the original Seadoo GTE features such like:
IBR Intelligent Brake System (IBR)
VTS Variable Trim System (VTS)
GPS Position , Compass, Speed, Lap timer, etc.
Automatic Limp home mode < 20% Battery capacity
Communication protocol Can bus
Total Weight: 435 kg
Unfortunately we have no information about the price of the Electric Seadoo GT Electric Waverunner, but we assume it was not inexpensive.
Jetski electric drive from Austria
The company Stromkind developed a Jetski electric drive to cope with the noise and exhaust fumes of personal watercraft.
Noise and exhaust fumes mean that personal watercraft are being banned from more and more waters. A Jetski electric drive from a startup in Vienna aims to change this. Stromkind founder Andreas Desch and his team are working with jet ski manufacturers like Belassi to make it happen. It turns out that you can't just convert existing gasoline-powered drives to electric, because they're not effective enough.
A special electric jet ski drive had to be developed. For this purpose, a new pump system and a new propeller were designed. The goal was to increase the efficiency from 20 percent for gasoline engines to up to 70 percent for electric engines. This drive was to be marketed under the name Podilabs and to make it easier for manufacturers to offer electric jet skis.
But according to the founders, this would only be the beginning. Because such an electric drive could also be used for boats and larger ships, which would increase the market potential many times over. The first prototype was to be presented in early 2017. Supported by local funding programs, it turned out that the funding, amounting to a six-figure figure, would not last long. One prototype alone gobbled up costs of around EUR 50,000.
So they set out to find more investors. Unfortunately, this was not crowned with success and so this Jetski electric drive did not make it to the market in the end. The hurdles were simply too high and in 2017 the battery technology was not yet ready. The company websites at podilabs.com and stromkind.at are no longer up to date or even switched off.
There is no doubt that there is interest in an exhaust-free and quiet engine for personal watercraft. Hence the many attempts by various startups around the world to find a solution here. However, we will have to wait a little longer for such solutions to become reality. It is one thing to develop a prototype, but a reliable series product requires a long and expensive investment.
E-PWC Green Samba
In 2010 the Silveira Group from Ohio in the US presented a electric Jetski prototype of the Green Samba. Their promise was to deliver a similar experience than a 200+ horsepower PWC with speeds up to 65 mph (105 km/h), just without the noise and with no local emissions. The company never announced a price and the product never was available for purchase. Nevertheless the concept was very interesting. Not only because it was electric, but also the shape and the weight was very different compared to other Jet-skis. The light weight carbon fibre hull was designed that rider was sitting very close to the water surface. Almost like a race motor bike.
The Samba Green prototype was scheduled for late 2010, but the company stopped the efforts as they realized that the battery technology was not advanced enough at the time to compete with the performance of petrol powered Jets. Already in 2009 they had prototypes of the Samba which was a petrol powered version of the Samba Green. See the following video:
The Silveira Samba Green website was originally at silveiracustoms.com, but it is not online anymore.
Eco Watercraft
Another company came up around the same time with an environmentally friendly electric Jetski PWC concept. The Eco watercraft approach was again about eliminating noise and local emissions. The charging time was claimed with 3 hours at 240 volt and 6 hours at 110 volt. The first prototype reached 50 mph (80 km/h) according to CEO Barret Taylor, but the goal was 65 mph (105 km/h).
The company compared their E-PWC with Tesla cars and promised instand torque at any speed. Nothing was said in terms of run-time at the time about the lithium ion battery powered Eco Watercraft. Their goal was to find a well known big wave surfer to proof the concept that their Electric Jetski would be able to compete with petrol PWCs. Also their original website ecowatercraft.com is down.